Outdoor solar lights are a fantastic, affordable, and eco-friendly way to decorate your garden or outdoor area.
Whether you have a huge yard, sprawling garden, a modestly sized terrace, or a small but cozy balcony, solar lighting can provide the perfect lighting solution and completely transform your outdoor space.
There are a wide variety of solar lights available on the market, with different features and designs to fit every need. However, with more choices than ever before, it can be hard to know where to start.
But don't worry!
Let our experts guide you through the very best outdoor solar lights of 2023, explaining the different features you need to look out for and bringing you a selection of fantastic options.
Best Outdoor Solar Lights of 2023
Outdoor Solar Lights Reviews
Best Overall: Signature Garden Super-Bright Solar Garden Lights
My pick for the best overall outdoor solar lights are the Signature Garden Super-Bright Solar Garden Lights. They're cost-effective, easy to install, and provide ample lighting for a wide variety of garden areas.
These lights are good value for money at less than $5 per light! Despite their budget-friendly price point, they have some really great features which make them our best overall selection.
With a 15 lumen light rating, they give off a good, bright white light which is perfect for providing decorative lighting to your garden lawn or outdoor flower bed or even to use as path lights. They have no wires or switches and are, of course, 100% outdoor solar-powered, making them easy to use whilst saving you money on electricity – win-win!
Installation of these lights is similarly straightforward: simply detach the lamp from the post, firmly insert the pointed post into your soil or lawn, and pop the lamp back on top. Leave them to charge for up to eight hours and voila: perfect outdoor solar lighting!
Best String Lights: Brightech Ambience Pro Solar Powered Outdoor String Lights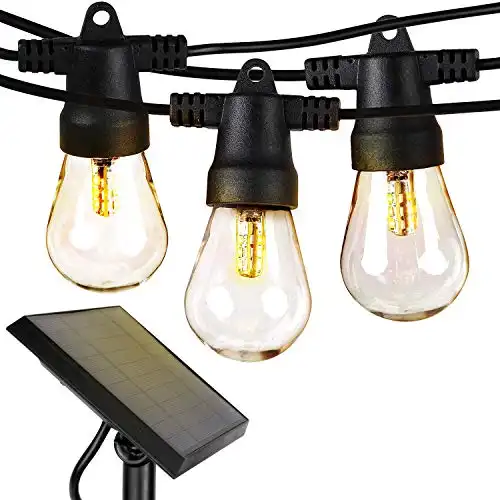 If you're looking to create an outdoor ambiance, string lights can be the best solar lights for the job. These Brightech Ambience Pro Solar Powered Outdoor String Lights are our pick for the best string light, as they provide a lovely bistro-style atmosphere, perfect for a party or dining, and are super easy to use and set up.
These solar fairy lights use vintage Edison bulbs in order to give off lovely warm lighting, which makes them the perfect pick for an outdoor event, such as a party or a wedding, or for those looking to create a cozy outdoor dining area for long summer evenings.
As well as being a great design feature, they are also easy to use with a detachable solar panel that can be placed somewhere with the strongest sunlight in order to ensure your lights are getting the solar energy they need. You will need about six hours of sunlight for a full six hours of charge: the panel also has an on/off switch at the back
These string lights offer a 27ft length with 15 replaceable LED bulbs. What's more, the bulbs are shatterproof, so you don't need to worry about inconvenient breakages. The lights also come with a two-year solar warranty, for ultimate peace of mind!
Best Spotlights: URPOWER Outdoor Solar Spotlights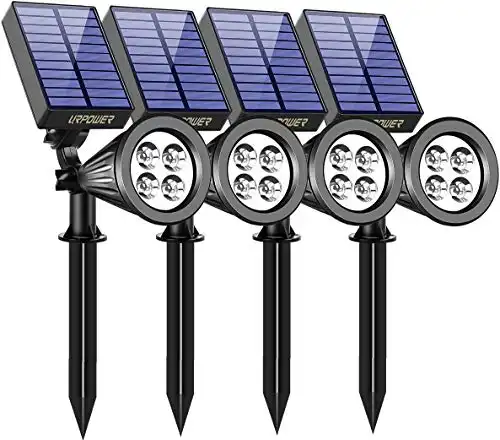 URPOWER Outdoor Solar Spotlights
Key Features:
Two brightness levels
Adjustable angle
Two installation options
Comes in a set of 4 with a mid-range price point
Warm white or cool white coloring options
Buy Now
For those looking for a bigger and brighter lighting solution, these URPOWER Outdoor Solar Spotlights could be the lighting solution for you. A solar spotlight can provide bright light to any area of your garden, which is the perfect solution for lighting driveways, pool areas, or yards.
These solar spotlights offer two light modes with different brightness, so they can be adjusted depending on your needs. The low light mode lasts for up to ten hours on a full charge, and the high light option lasts for up to six.
They have a wide solar panel to enable quick charging in a wide variety of lighting conditions, and automatically switch on and off as the lighting conditions change. As well as this, there are two installation options: you can attach them to the wall, or stick them in the ground with the stakes provided.
Each solar light can be adjusted by up to 90° in order to angle the light for the requirements of different spaces: for example, if you want to provide feature lighting to a line of trees, they can be angled upwards.
Best Motion Security Lights: Aootek 182 LED Solar Outdoor Motion Sensor Lights
For a fantastic security option, a motion sensor light could be a great option for you. These outdoor motion-activated lights provide the perfect security solar spotlight option for your front door, back passage, or rear garden.
These outdoor motion sensor lights have three optional modes: security mode, which utilizes the motion sensor, permanently on during darkness, and smart brightness control (where they get brighter when they detect motion).
They can detect movement from up to 26 feet and at an angle of 120°, and with a large solar panel for optimal charging as well as a 120 LED powered bulb, this outdoor solar light will be sure to brighten your alley.
These are the best solar lights for those looking for practical security lights for their outdoor spaces.
Best Pathway Lights: Bobcat Lighting Solar Pathway Lights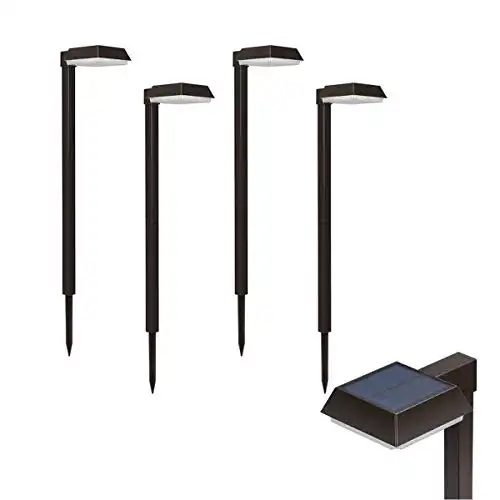 If you're looking to light an outdoor pathway, these Bobcat Lighting Solar Path Lights could be the best solar lights for you, offering both a practical lighting solution as well as a smart design.
These solar path lights use super-bright, 300 lumen light bulbs made possible by high-efficiency LED chips, which make them a fantastic lighting solution for a dark driveway or garden path. What's more, they also offer the option of two lighting options: either warm white light or daylight.
With fast charging solar panels, these lights can stay illuminated for 6-8 hours with a full charge: which only takes 4-6 hours of direct sunlight! They are easy to install and are height adjustable at either 13″ or 26″ high.
With a 2-year hassle-free warranty, these solar path lights are an excellent option for those looking to light a dim walkway in their drive or garden.
Best Lantern: TomCare Flickering Flame Solar Lantern
To create the ultimate ambiance with a fire-like feeling, look no further than this TomCare Flickering Flame Solar Powered Lantern, which replicates a real fire lantern!
This safer, more environmentally friendly, and energy-efficient alternative to a 'real' flame lantern features a large solar panel for optimal charging as well as a large solar lamp for an impressive visual experience.
Designed to be hung, this solar light comes with a durable clamp and hook, allowing it to be hung or hooked anywhere in your garden. What's more, this solar-powered lantern is totally weather-resistant, making it perfect for almost any garden environment.
This lantern could be a great option for those who love to entertain.
Most Decorative: KOOPER Solar Garden Lights With Lily Flowers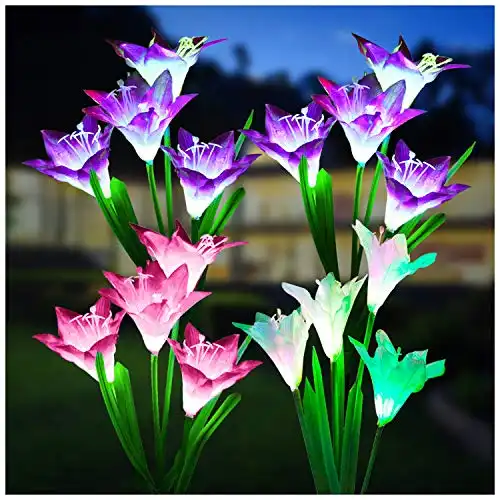 For those who like a more natural feel, these KOOPER Solar Garden Lights with Lily Flowers could offer a fantastic option, as these pretty solar lights are decorated with synthetic flowers to blend right into your green space.
These solar lights are encased in fabric lily flowers, providing a lovely addition to your lawn or flower bed which simultaneously offers enough light for an after-dark feature.
Adjustable stems and leaves mean you can adjust these solar lights to a pose that suits you. As well as this, these solar lights offer color-changing bulbs, which cycle through seven different variations for that ultimate romantic atmosphere!
They are also still highly practical, offering full weather resistance and an adjustable solar panel so as to optimize charging capacity. The set comes with a mix of pink, purple and white flowers.
Runner Up: GIGALUMI Outdoor Solar Lights
Our best pick for those on a tight budget is these GIGALUMI Outdoor Solar Lights. Despite having a pretty price point, they are also practical and functional with an optimal amount of light.
These solar lights cost under $25 for a twelve-pack, making them the most budget-friendly example of our selection.
They offer easy installation: simply unscrew the bottom section of the light, switch on the isolator switch, push the post into the soil, and you're good to go. Made of stainless steel, they are highly weather-resistant and will withstand almost all outdoor conditions, including extreme heat and frost.
Despite having a modest price tag, they are still elegant and attractive and are well equipped to provide your outdoor area with the light required: as well as coming with a 30-day money-back guarantee.
Runner Up: Brightown Outdoor Solar String Lights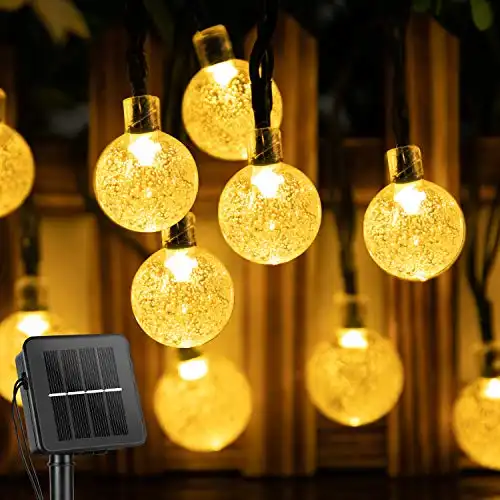 These Brightown Outdoor Solar Powered String Lights offer another stylish and aesthetic solar light option, perfect for creating outdoor ambiance in a garden or at an event.
These solar-powered string lights are styled like small crystal globes, making them great for a wedding or a party. What's more, these solar lights have 8 lighting mode options, including settings such as wave or twinkle flash: setting the perfect mood for every event with warm white lighting.
They have a 180-degree adjustable solar panel for optimal charging and can provide 8-10 hours of light when fully charged. IP 65 waterproofing makes these solar lights fully waterproof, so you can enjoy them whatever the weather.
At $21.97 for a 35.6 ft long string set of 60 LED lights, powered fully by solar energy, you can set the mood with these solar-powered string lights.
Runner Up: Solpex Solar Outdoor Garden Lights
The last on our list are these super-cute Solpex Solar Outdoor Garden Lights, providing a romantic and practical solar lighting option for your outdoor area.
Designed to look like little houses, these solar lights offer a more aesthetic stake-style solar lighting option. They give out soft light through 'windows', making them fantastic as a decorative lighting option to create a romantic atmosphere.
As well as being a great design option, these solar lights are also very practical, as they also offer easy installation for a variety of outdoor spaces: simply push the weather-resistant stem into soft ground. At full charge they provide 8-10 hours of light, so will brighten your garden all night long.
If a kitsch style is what you're after, these could be the solar lights for you.
Outdoor Solar Lights Buying Guide
Type Of Light
When deciding on the perfect outdoor solar light for you, the type of light you choose will depend on the intended use for the light as well as the space and structure of your outdoor area.
For example, solar string lights (sometimes referred to as outdoor fairy lights), can be hung around a terrace, used to decorate the garden for a specific event, and even placed in trees to accentuate your garden in the dark.
Alternatively, solar powered lights with motion sensors or floodlights are perfect for providing security, or you could choose solar post lights as a way of illuminating a path or beautifying your lawn.
The type of outdoor solar light you choose will depend on the area that you're trying to light, as well as the ambiance you're trying to create.
Soft dim light can be perfect for an alfresco dining experience, whereas bright white light is ideal for a practical lighting solution. The choice is yours!
Battery
The batteries used in solar lights typically come in four different types: lithium-ion, NiMH, lead-acid, and NiCAD.
If you're after a less-powerful lighting option, NiMH batteries can work well, as they often operate on a dim setting but use less energy, so provide a longer running time between charges. Alternatively, if you're after a powerful lighting option, lithium-ion or lead-acid batteries are the best options for you. These batteries are often used in floodlights or outdoor lights with a bright mode option.
As well as considering which type of battery is best for your outdoor solar lights, it's important to also consider the battery capacity: which essentially refers to the amount of power that can be stored in the rechargeable battery at full charge.
The higher the rechargeable battery capacity, the longer it will last between charges. Outdoor solar lights last on average 6-8 hours between charges, but this can vary greatly. You should consider how long you need your lights to last when deciding which option is best for you!
Price Point
It goes without saying that the outdoor solar light which you purchase will be at least in part dictated by your available budget. You can get some really good standard solar lights at a reasonable price point: so don't think you need to spend the earth to light your outdoor space!
There are a few key features that can affect the price point of a solar light. Lithium-ion batteries can be more costly, as they produce the most power from the most compact unit. As well as this, high-outage LED lights with long battery life or additional features such as motion sensors are likely to be more expensive.
Sometimes you do get what you pay for, so if you're after a powerful, fast charging, and long-lasting solar light, you may have to spend a bit more. That being said, there are still some really functional and cost-effective solar lighting options on the market: for example, our best budget pick from this roundup!
Light Output
Light output tends to be measured in 'lumens', which is, in simple terms, a measurement of visible light. The higher the lumen measurement, the brighter the light given out (perhaps unsurprisingly). How much light your solar lighting gives out is an important feature that needs to be considered before purchase.
For example, if you're purchasing floodlights or solar path lights for a dark driveway, you will probably need a solar light with a high light output.
Alternatively, if you're looking to purchase solar string lights to give a gentle ambiance to an outdoor seating area, you may want a lower Lumen measurement.
You may also want to consider the color temperature of your solar lighting, as some lights give off a bright white light, others a warm yellow and some offer both, with a switch to choose between the two options.
Additional Features
All outdoor solar lights provide energy-saving, efficient outdoor lighting, but many come with some useful additional features too.
Some additional features that can be found on outdoor solar lights include:
Extendable posts on path lights for height adjustment
Motion sensors (most common on wall lights or a solar spotlight)
Adjustable solar panels for optimal charging
Automatic on and off capabilities: some solar lights automatically turn on when it gets dark
Transitioning color lighting
A switch to choose between bright light or warm light color temperature
Energy storage mode for optimal battery life
Weather Resistance
It's worth thinking about the climate which you need your outdoor solar lights to withstand before deciding which is the right option for you.
Most outdoor lighting is designed to be highly weather-resistant. They are usually created from hard-wearing plastic or stainless steel, and can therefore endure most conditions, including strong sunlight, frost, and rain.
Nevertheless, if you intend to place your lighting in a location with extreme weather conditions, it's worth checking the product specifications to see what your chosen LED lights can withstand.
Types Of Outdoor Solar Lights
There are so many different solar lighting options on the market, with a wide range of designs to suit a multitude of needs and preferences.
The best solar lights for you will be dependent upon their intended use: are you purchasing solar lighting for an event, such as a wedding, or as a permanent fixture in a garden?
Let's take a look at some of the most common types:
Flood Lights: These are a great way to both illuminate your outdoor spaces and also are a great security measure. Solar flood lights are also a great security measure if you opt for the motion sensor models.
Tiki Torches: Solar powered tiki torch lights are great for beautifying any outdoor space and can provide the perfect temporary lighting solution for an outdoor party or wedding.
Deck Lights: Adding solar lights to your deck is a fantastic way to add pops of light and ensure they are well illuminated for night.
Step Lights: If you have an outdoor stairwell adding solar step lights makes night time up or down them far easier to use without tripping.
Holiday Lights: More and more homeowner are switching to solar options for both Halloween and Christmas and we are big fans of this trend!
Flagpole Lights: In many, perhaps most countries, it is disrespectful to fly flags at night unless they are well lit. Display your flag properly by taking advantage of solar flagpole lights, they are so easy to install and use.
Gutter Lights: Solar gutter lights are engineered to attach to your roof gutters and provide illumination for the sides of your house.
Lamp Posts: Trenching wires and making sure they work is up to code is quite the undertaking. Which is why we strongly recommend wireless solar powered lamp posts instead. They can be placed nearly anywhere, are easy to install, and don't rely on external power sources.
Pool Lights: Looking for a fun decorative pop to your pool aesthetic? Solar pool lights are a stylish, affordable, and unique way to add both color and light to your outdoor pool area.
Whatever the need or the occasion, make sure you choose a design that suits you and your outdoor space!
Running Time
The running time of your outdoor solar lighting, otherwise known as battery life, refers to how long your lights will last between charges. When purchasing your outdoor lights, it should stipulate in the product specifications how long your solar lights will run for on a full charge.
The amount of time your solar lights need to reach full charge can depend on if the solar panel is located in direct sunlight, and how much bright sunlight your garden or outdoor area gets.
Some solar lights have a longer battery life than others, as additional features such as color-changing bulbs or a bright light setting may cause the battery power to deplete quicker. It's important to think about how long you need your lighting to run for before making the final purchase decision!
FAQs
Are Outdoor Solar Lights Easy To Install?
Most outdoor lights are designed to be easy to install, so you can brighten your outdoor space in no time.
The methods of installation will vary depending on the type of light you choose: for example, path lighting which uses posts can simply be inserted into soft ground, whereas solar deck lights will needs to be permanently affixed.
Make sure to follow the instructions provided and you should have your lighting up and running quick as a flash!
How Long Does Solar Outdoor Lighting Last?
Generally, the batteries in standard solar lights tend to last between 3-4 years before needing a replacement. The LED's can in fact last a lot longer: up to 10 years on average!
When the batteries run out, you can either replace them or buy a whole new unit. Your decision on which to do will often depend on the cost of the unit versus the cost of the batteries.
To make your lights last as long as possible, make sure they are placed in direct sunlight wherever possible, and clean the solar panels frequently in order to avoid dirt build-up. This can hinder their ability to get sufficient solar energy and wear the batteries out more quickly.
Final Thoughts
Outdoor solar lights provide the perfect eco-friendly and hassle-free method for lighting your outdoor area, whilst also saving you money on your electricity bill! With no wires or switches, a high level of weather resistance, and the option of a wide range of designs and features, solar lighting is undoubtedly a great solution for adding light to a garden or terrace.
The different types of designs available on the market make solar-powered lights incredibly versatile. As illustrated, string lights can provide the perfect party lighting or create a romantic dining space, path lights can illuminate a dim driveway, and motion sensor spotlights provide peace of mind and security to many homeowners.
This guide has highlighted our top-10 solar lights of 2021, to help you choose from the vast number of solar lights on the market. Coupled with our buying guide, you should be in a great position to purchase your outdoor solar lighting, and find the perfect solution for your alfresco area!