Your attic is one of the hottest areas in your house thanks to direct sun exposure.
If temperatures are high in your attic, they will be in your whole house. This means a higher electricity bill, especially during the summer.
A solar attic will to help improve the ventilation in your attic, which results in lower energy costs to cool the entire home.
Lower energy costs = lower utility bill = winning!
On top of that a solar attic fan is also highly beneficial during the winter as it helps reduce moisture build-up in your home.
The Best Solar Attic Fans of 2023
This guide will help you find the best solar attic fan by identifying the key features and benefits of the most popular and best solar attic fans.
Solar Attic Fan Reviews
Best Overall: Natural Light Solar Attic Fan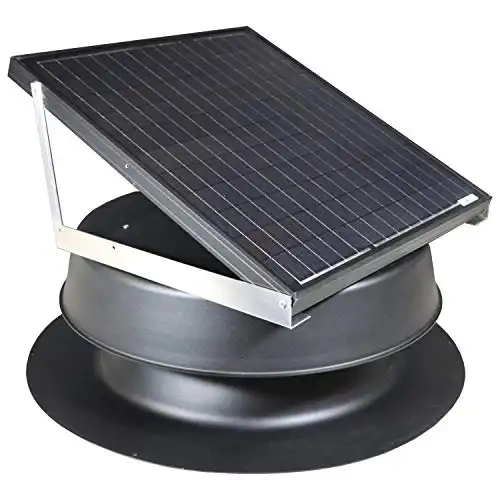 Natural Light Solar Attic Fan
48-watt solar-powered attic fan
Size 27.25 × 27.25 × 11.5 inches
Moves at 1881 cubic feet per minute with direct sun exposure
A 25-year limited warranty that is the best in the industry
Made with the highest quality materials
Very low noise level
Comes with high-grade packaging
Buy Now
The Natural Light Solar Attic Fan is the best choice overall- which means it scores well in several categories!
This solar-powered attic fan is 48-Watts and is able to move at high pressure and cover an expansive area in a minute if it has direct sunlight exposure.
The fan's air flow capacity is at about 1881 cubic feet in a minute and covers about 2825 square feet of attic space. Therefore, this fan is a perfect choice if you have a large attic.
The product has been made with the best materials compared to any other brand on the market and comes with a 25-year limited warranty. Therefore, it is nearly a lifetime investment with no need for repairs for years.
When looking for the best solar attic fan, it is important to consider products that are made from non-corrosive durable aluminum because they last longer.
You can also buy an additional thermostat that you can attach to it in colder weather. However, this is sold separately.
With a powerful wattage and strong air flow capacity, this solar attic fan is the best choice overall. Additionally, it offers a great warranty, putting homeowners at ease regarding its performance and durability. The customer reviews for this product are excellent and this unit can keep your home air conditioning bill to a minimum while also protecting your roof from damage.
Runner Up: Remington Solar 20-Watt Attic Fan
Remington Solar 20-Watt Attic Fan
20-watt solar panel
Size 22 × 22 × 11 inches
Prevents mold and moisture build-up
Comes with a Humidstat and Thermostat
Brushless Motor
Hail & Weather-resistant
Lifetime Limited Warranty
Very low noise level
Buy Now
The Remington Solar 20-Watt Attic Fan comes in right behind the Natural Light Solar Attic Fan. Just like other solar attic fans, the Remington Solar is powered by solar energy and works to cool your attic quickly and keep the load off your furnace, and therefore your pocket!
It is built to fight mold and moisture, as they can be highly detrimental to a house's value.
There is also a built-in humidistat and thermostat to manage airflow according to what your attic requires. If you would like it to run at night, you can always purchase the Hybrid Adapter.
The motor is weather-resistant and brushless which gives it an extended life.
It is nearly inaudible and will not be a disturbance in the house when running.
This solar fan also comes with a lifetime warranty but is perhaps less ideal than the Natural Light Solar Fan in terms of wattage and the materials that it is made of. Nevertheless, an excellent choice amongst solar powered attic fans!
Best for Wattage: Amtrak Solar Attic Fan
Amtrak Solar Attic Fan
50-watt solar attic fan
Made of Galvanized Steel
Size 27 × 22 × 4 inches
Great industry warranty, 25 years of limited warranty
Easy installation with wires that quickly connect
Comes with 15-feet of extra wires and brackets for multiple uses
Long-lasting motor
Very little noise
Buy Now
The Amtrak Solar Attic Fan is the most powerful of them all in terms of wattage, at a grand 50 Watts. It has a highly efficient 10-inch blade that operates quickly to cool hot air in your attic area. The Amtrak attic fans can be used for multiple purposes and can be placed in the greenhouse, shed, or even your RV as it comes with extra wire for extensions.
The motor is high torque, thermal-protected, and is built to provide extended life. The noise level is minimal, meaning little to no disturbance while it is running and the area covered goes up to 2250 square feet. Therefore, if you have a large attic, you don't have to worry!
You can get a thermostat with the attic fan upon request.
Like the Natural Light Attic Fan, the guarantee for the Amtrak Solar Attic Fan is one of the best in the industry- with 25-years of limited warranty. This is a great easy-on-the-pocket option for a solar attic fan and it has a high rating as an easy-to-install option too!
Best for Coverage: Broan-NuTone Solar Powered Attic Ventilator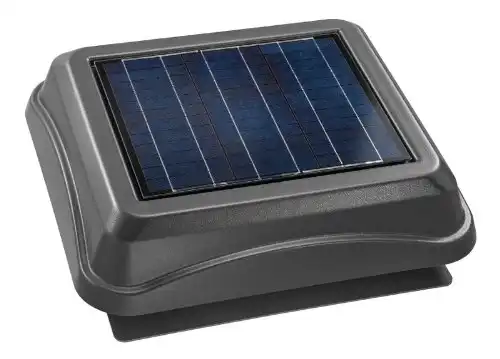 Broan-NuTone Solar Powered Attic Fan
28-watt solar-attic fan
12 inch diameter
Made of rugged ABS plastic with a glass solar panel
Weather-resistant product
Provides maximum coverage at 537 cubic feet per minute
Excellent performance and little noise
Has aluminum screen to keep animals away
Buy Now
If you are ready to go green and save money while you are at it, the Broan NuTone Solar-Powered Attic Ventilator is a fine choice to keep the temperature in your attic and your whole home ideal.
The 28-watt ventilation fan is made of plastic with a glass solar panel. The material is weather- resistant and can handle difficult conditions, giving it an extended life.
It provides maximum coverage at 537 CFM all year. This is the best coverage among attic fans, specifically solar powered attic fans.
The design is simplistic and unobtrusive, meaning it won't stand out on your roof or be an ugly addition to your home structure. There is a compact base and a carefully constructed housing frame, that make the vent fan easy to install.
Due to its quality, this product has made it to the list of best solar attic fans that you can buy!
Budget Pick: Solar Blaster Solar Roof Vent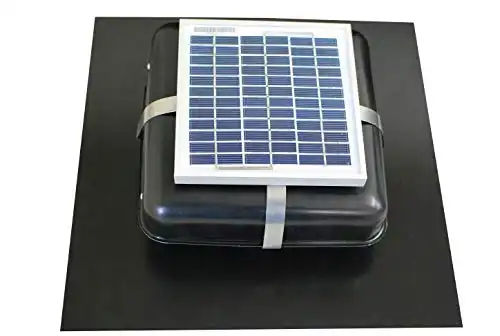 On a budget and not sure which product to buy? The Solar Blaster Solar Roof Vent is the best option for those who are on a budget and are seeking quality. It meets your home cooling needs at a competitively low price, all with exceptional performance.
The attic fan is a breath of fresh air for homeowners who want to control temperatures but don't want to invest too heavily in attic ventilation.
It has a 3-watt solar panel and a 2-ball bearing fan that can disperse air at 39 CFM- significantly lower than the Broan NuTone but adequate for smaller homes. The fan motor powers 2700 rotations per minute.
As mentioned above, solar attic fans can be expensive, so this is the best buy for those who are looking for a reasonably priced product.
Best for Cloudy Weather: ECO-WORTHY Solar Powered Attic Ventilator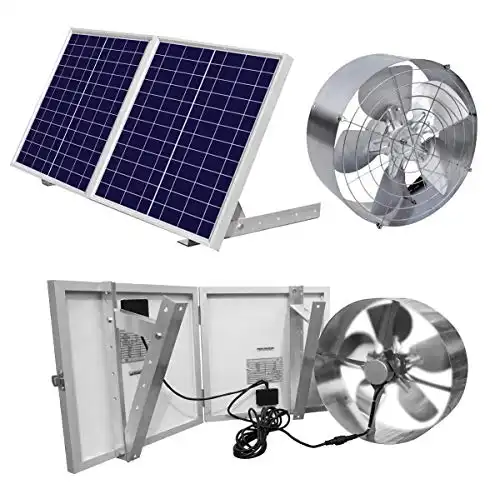 ECO-WORTHY Solar Powered Attic Ventilator
30-watt solar panel
12.6-inch blades
Works at a minimum voltage of 4 for optimal performance in cloudy weather
Low-cost and saves money spent on electricity bills
Made of durable material and weather-resistant
Can be installed in gable vent
Can be used in RV, greenhouse, shed, and other places
Provides a guarantee for parts and motor
Buy Now
One of your main considerations when purchasing a solar attic fan is that it works with solar radiation, as opposed to a regular house fan. But what happens on cloudy days when the sun does not come out?
Homeowners need not worry about this situation with the Eco-Worthy Solar-Powered Attic Ventilator.
This product has a 30-watt foldable solar panel and the motor works at low voltage. It only requires 4 voltage to operate, making it the best option when it comes to accounting for cloudy weather.
It is made of robust material and the motor is weather-resistant and operates without noise. The product also comes with a decent guarantee for parts and the motor, which can be replaced if they stop working or if a part is missing.
This product also provides great value for money, keeping house cooling costs to a minimum.
The solar attic fan comes with an 8-inch solar cable and the solar panel has a 16-foot solar cable that can be connected with quick connect wires. Therefore the attic fan can be installed anywhere: greenhouse, shed, RV, etc.
Buyers of this product will be impressed by its performance in keeping the attic temperature ideal and protecting the roof from moisture in the winter.
Premium Pick: iLIVING HYBRID Solar Roof Attic Exhaust Fan
iLIVING HYBRID Solar Roof Attic Exhaust Fan
20-watt solar panel
21 x 21 x 10 inches
Made of aluminum, nylon, fiber aluminum, and steel
Solar Panel is adjustable
Can ventilate up to 2000 sq ft
Warranty of up to 15 years
Brushless and Waterproof up to level Ip68 motor
Easy installation on roofs
Buy Now
The best premium solar attic fan is the iLIVING HYBRID Solar Roof Attic Exhaust Fan. It has 14-inch fan blades that have a high airflow capacity compared to other attic fans.
The motor is 20-watts and covers 1750 CFM- cooling off up to 2000 square feet of space. It is made of aluminum, nylon, and steel.
This top-selling ventilation unit can significantly help keep the attic temperature cool and keep air conditioning costs to a minimum. It comes with a smart thermostat that includes a feature to enable/disable it at your own discretion.
It is easy to install on the roof and prevents mold and moisture buildup in your home. There is a long 15-year warranty and the motor is waterproof and brushless for high-quality performance.
One of the most important features of this solar attic fan is that the solar panel is adjustable. Therefore, you can rotate and adjust the position of the panel towards the sun, enabling it to get maximum sunlight exposure. So, if the sun isn't shining in one direction, simply move the solar panel so you can catch the sun's rays in another direction.
It is perfect for your home temperature control needs and provides excellent air conditioning.
Best for Versatility: QuietCool 40 Watt Solar Powered Gable Mount Attic Fan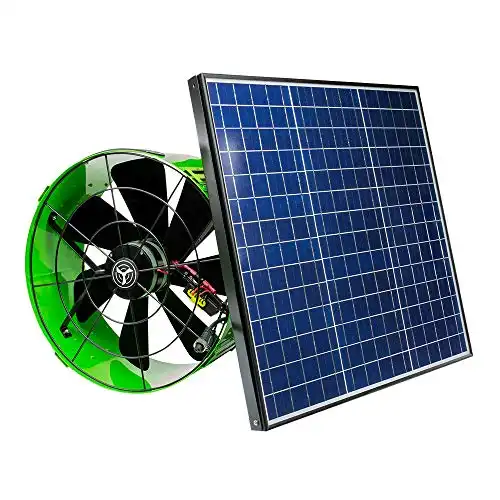 If you are looking for a versatile product, one of the best solar attic fans is the QuietCool 40-watt solar-powered attic fan. It comes with a 40-watt solar panel that is a highly efficient energy source, providing great performance for cooling your home.
The DC motor uses energy very efficiently and provides a long runtime. However, unlike other models, it comes with an AC/DC inverter to provide 24/7 runtime if needed.
The thermostat is preset and the solar panel is adjustable with a 60-degree tilt so you can soak up as much solar radiation as needed.
The fan prevents moisture from building up and provides some protection against home deterioration.
The customer ratings for this fan are mostly 5-star as customers are really happy with this product's performance in their home. This is a great buy if you are looking for added extras or if you need 24/7 runtime.
Solar Attic Fan Buying Guide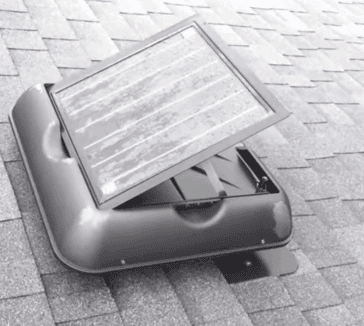 Attic Space
When analyzing different solar attic fans, it is imperative that you choose one of the correct size. The size of your solar attic fan depends on its coverage and how much air capacity it has per minute, and this is directly proportional to your attic space.
You can measure the coverage a solar attic fan provides in cubic feet per minute.
The larger your attic, the more powerful a solar attic fan you require because you need to cool off a larger area. Therefore, first, measure your attic space in square feet and then compare it to the coverage that each solar attic fan provides per minute.
If you have a larger attic, your best bet would be to opt for a fan that provides maximum coverage in square feet like the Broan-Nutone Solar Attic Ventilator.
If your attic is smaller, you can buy a smaller fan and perhaps one that is less expensive. However, please do not buy a smaller fan for larger attics as they won't be able to provide as much benefit as you need and would be a bad investment.
Price Point
Whenever you make a purchase, one of the most important things you will consider is the price point. Solar attic fans are usually expensive, but installing one also significantly decreases your air conditioning costs during the summer.
Additionally, since they run on solar power, they do not add anything to your power costs. Therefore, overall, they make up for their price.
However, how do you ensure a solar attic fan that you are purchasing is worth the price you are paying for it? One of the main things to consider is the wattage of the fan that you are purchasing because this determines how powerful the fan is. Usually, fans with a higher wattage are priced higher because they are able to absorb more sunlight and therefore run at higher speed.
The next thing to consider for the price is the airflow capacity of the fan that you are purchasing. More expensive fans have a larger airflow capacity and can cool off a larger area more quickly. Obviously, if you need a larger fan for a large attic, the fan will be more expensive than a fan for a smaller attic space.
Your price will also include the warranty of the fan. Usually, cheaper fans have a smaller warranty period and the more expensive ones have a longer warranty period. It is worth it to pay a higher price for a longer warranty because it will keep you away from the struggles of having to repair or replace your fan or any of its parts.
Solar attic fans can cost anywhere from $150 to $700 and above. Choose one that provides value for money based upon the factors mentioned above.
Durability
It is advisable to choose solar attic fans made of robust and durable materials because it is expensive to replace fan motors and the solar panel. Even if you have a warranty, you don't want to be stuck in the hassle of repairs. The best material would be aluminum and you should also ensure that the fan's home base material is sturdy.
Since these fans are installed on roofs, it is important to ensure that the solar attic fan can withstand harsh weather conditions; hail, heavy rain, etc. They will only be able to do that if they are made of high-grade material. The better the material used for the fan motor and housing, the longer your fan will last.
You should also look out for warranties when checking for durability because really, your fan will last as long as the warranty is still applicable. Some of the best fans, such as the Natural Light Solar Attic Fan, have the longest warranties.
Versatility
Your solar attic fan should be versatile and offer a number of different features. It should also be good for use in a number of different places besides just your attic. Some fans come with extra connector cables to be able to provide ventilation in the greenhouse, shed, or RV.
Check for how many extra features the solar fan offers and how/where it can be used. While versatility may not always be a priority, it can provide much-needed benefit if you have multiple uses for the unit.
Solar Panels
The amount of solar energy that the solar panel of an attic fan absorbs becomes the wattage of the electricity it produces.
A high-wattage solar panel has the ability to produce more electricity and offer longer runtime. You should be looking for maximum wattage solar panels in your solar attic fan and you should also be looking for a panel that is adjustable.
Adjustable solar panels for solar-powered attic fans can be moved to maximize solar exposure. Therefore, if the sun isn't providing much radiation in a certain direction, the solar panel can be tilted to gain as much solar energy as possible. Not all solar attic fans provide this option but it is an important point to consider.
Installation
Everyone wants to purchase something that is easy to install. Please remember that most solar attic fans have a small installation fee while others are so easy to install that homeowners can often opt for a do-it-yourself method.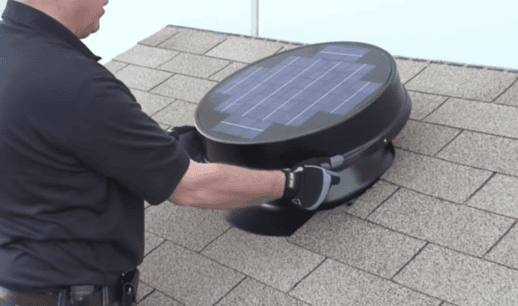 In order to install a solar attic fan, you need to remove shingles and tiles from the roof, to create a hole in the structure that the attic fan sits in.
However, there are two types of installation, one is to mount the fan on your roof while you can also opt for a gable vent, which can be installed on either the exterior or interior wall of your structure.
Type of Roof
There are different types of roofs for residential and commercial buildings, and you need to ensure that the product you are purchasing is compatible with the type of roofing you have.
Roofs may be clay tile, fiberglass asphalt shingle roofs, or other types, and it may be difficult to use a specific attic fan with a certain roof type.
Therefore, always check which type of roof the unit can be installed on.
Additional Features
There are always additional features that solar attic fans offer, such as a thermostat/humidistat or an AC/DC inverter for 24-hour runtime. Some solar attic fans include these additional features, while others offer them as add-ons that you have to purchase separately.
If you opt for an AC/DC inverter, you can also use your unit at night when the sun is not powering it. The iLIVING Hybrid offers an AC/DC inverter with the fan, but this varies.
FAQs
Is A Solar Attic Fan Worth It?
Solar attic fans can be really beneficial where temperatures get extremely hot during the summer and this causes significant increases in electricity bills due to the need for air conditioning.
Attic fans can reduce the temperature in attics by as much as 50 degrees on very hot days. Therefore, it depends on your particular situation, how much of a power cost you incur, and whether you have purchased the right solar attic fan.
What Is The Best Solar-Powered Attic Fan?
The best attic fan depends on your needs. However, if you ask us, it is the Natural Light Solar Attic Fan due to its large airflow, durable design, and excellent warranty. You really can't go wrong with this great all-rounder.
How Many Solar Attic Fans Do I Need?
The number of solar attic fans that you need depends on the wattage of the fan and how large your attic area is. If your fan is of less wattage and your attic space is large you will need more fans and vice versa.
What Are The Benefits Of Using A Solar Attic Fan?
The benefits of using a solar attic fan include keeping your attic temperatures under control, reducing your electricity bill, and protecting your roof and home from moisture build-up.
Purchasing a solar attic fan isn't as complicated as it seems. All you have to do is understand your needs, your budget, and to choose amongst the best models that fit your requirements. Go through the attic fans in this guide, and you will be sure to find one that meets your specific needs!