I've tested and compared over 23 different brands to settle on my picks for the 10 Best Solar Deck Lights.
Which solar deck lights are right for you and which ones should you avoid?
Our buyer's guide has everything you need to know before buying your new solar lights and whenever possible I included links to multiple retailers.
Let's jump straight in!
Best Solar Deck Lights Of 2023
Note: We may receive a commission when you purchase items using links found on our website. We proudly recommend products that are backed by research, use, and testing.
Solar Deck Lights Reviews
Best Overall: SUNFACE Solar Deck Lights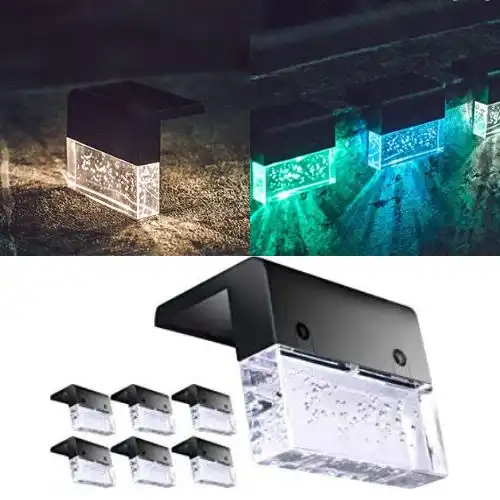 SUNFACE Solar Deck Lights
Installation is quick and easy, takes less than 60 seconds
The lights automatically switch on and off
Waterproof and weather-resistant
View On Amazon
View On Walmart
We earn a commission if you click this link and make a purchase at no additional cost to you.
My pick for the best overall solar deck lights goes to Sunface. These crystal clear singular deck lights make stunning lawn and yard decorations.
They have 2 lighting modes; warm white light or RGB functionality, which changes the color. I have the Sunface solar deck lights installed on my own backyard deck and love being able to change the color based on the season! During the fall I set them to orange and then during holiday season we use red or green
They automatically turn on and will stay on all night until sunrise, so there's need to worry about switching them off manually.
They come 6 to a pack, and I used 2 packs (12 total) for my deck which measures 12ft x 18ft.
These lights also have an IP65 waterproof and weather-resistance rating, so you can be sure they're long-lasting. The highly efficient solar panels operate without electricity and absorb the sun's rays to power themselves.
The solar panels have a battery life of 8-10 hours and can convert up to 19.5% of the sun's rays to use for energy, ensuring a long standby time. G
Best Budget: Ideaworks Solar Powered Deck Lights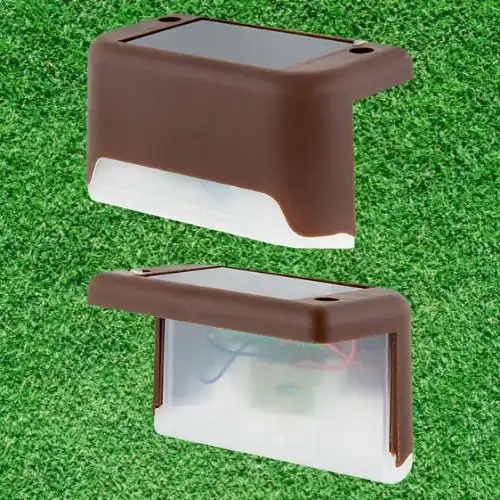 If you're on a budget, don't think that you have to put up with poor quality lighting. These outdoor solar lights from Ideaworks are the perfect budget-friendly option.
Light up the way with these gorgeous solar lights. Suitable for the porch, patio, decking area, lawn, or pathway, these lights will provide the perfect amount of illumination for those late outdoor evenings.
The integrated solar panels absorb sun rays during the day so they can whir into action at night. They are constructed from a plastic and polystyrene combination and they include all the mounting hardware needed to install them.
Best Premium Pick: Greluna Solar Wall Lights Outdoor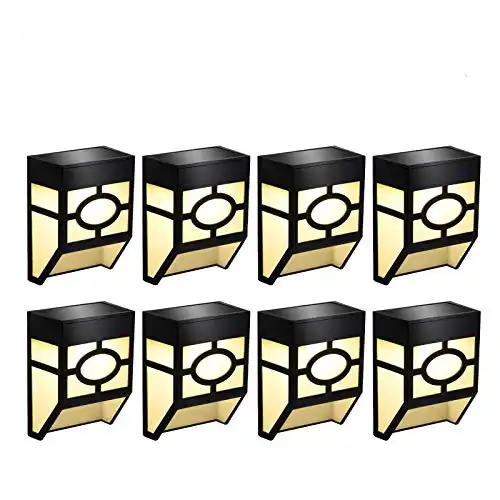 For the best premium solar lights, I recommend these from Greluna. The stylish design looks great in any yard and the IP65 waterproof rating ensures they last long, whatever the weather.
These upgraded LED lights allow you to choose from 2 different modes; warm white light or color changing, with 7 different colors. The warm white is perfect for everyday use and the color-changing is perfect for parties and backyard festivities.
They feature a generous solar panel that charges the battery for 8-10 hours of use. These lights come in a pack of 8 and they have an automatic operation for extra convenience.
The batteries fully recharge in just 6 hours and the lights are constructed from high-quality ABS materials, making them strong and durable. They are easy to use; simply leave them in direct sunlight so they can absorb the solar rays and charge up.
Suitable for a wide range of places, you can use them to inject color into your yard. They're also incredibly versatile – you can put them on walls, fences, decking areas, front and backyards, and many other places!
JACKYLED Solar Deck Lights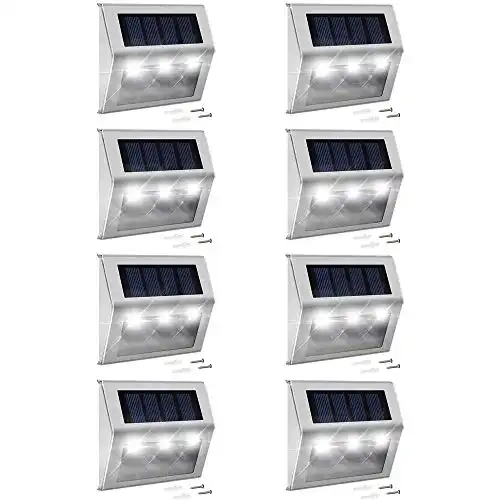 JACKYLED Solar Deck Lights
Each LED offers an impressive brightness level
Easy to install and installation screws are included
IP44 waterproof rating
Automatically charges
Buy Now
Our next pick of the best solar lights are these white lights from JACKYLED. Thanks to the polycrystalline silicon solar panels, these outdoor solar lights are quick charging and long-lasting.
These solar deck lights efficiently absorb the rays from the sun to convert it into energy. This means you don't use any extra electricity and there are no confusing wires to set up during installation.
However, for dull days where solar energy isn't as effective, the 1000Ah replaceable battery can be used to charge the lights up. The battery provides up to 10 hours of use so you don't have to miss out just because the sun hasn't shown up.
The automatic mode is easy to use. Simply turn the auto mode on, let them charge up naturally and they'll switch on at dusk and turn off at dawn. Each light has 3 high-quality LEDs which give off an impressively bright light.
With stainless steel construction, these lights are heavy-duty and can be used in all weather conditions thanks to their IP44 waterproof rating. They're suitable for lots of different areas including decking, lawns, pathways, and front or backyards.
Solpex Solar Deck Lights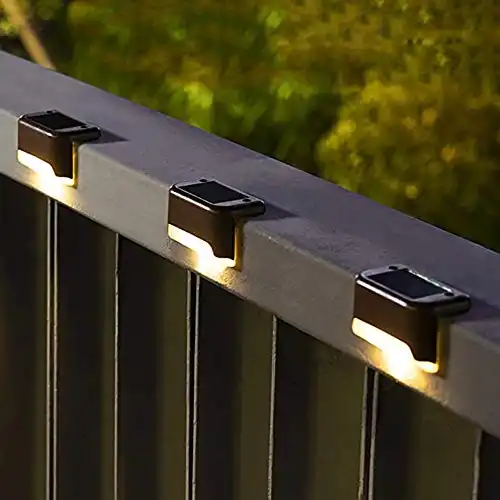 Solpex Solar Deck Lights


Suitable for decking and garden stairs
Comes with a limited warranty
The automatic feature provides convenience
Provide a warming glow to your garden
Buy Now
Next on our list of the best solar-powered deck lights are these from Solpex. This new and updated design has a color-changing cycle to add some pizzazz to your deck area. Create that party ambiance by placing them on the patio, lawn, porch, or wherever you like!
The automatic operation is incredibly handy – simply pull the insulator tab out to use it. On a sunny day, place it in direct sunlight and it will charge fully in just 4-5 hours. It will also automatically turn on at dusk and switch off at dawn, so it's perfect if you're likely to forget!
The tough and durable ABS shell and the solar panel are weather resistant and designed to withstand wind, rain, and even mild snow. Easy to install, each solar deck light can be installed anywhere as long as it can be secured with screws.
GIGALUMI Solar Deck Lights
If you're looking for great solar deck lighting ideas, look no further than these from GIGALUMI. These warm white decking lights provide the perfect amount of warm glow to light up your lawn area.
The ABS shell is tough and waterproof, and the premium quality solar panel can withstand adverse weather conditions such as wind and rain. They are ideal for illuminating pathways, patios, decking areas, and porches.
Super easy to use, these solar deck lights don't have switches – simply pop them in the sun and they'll automatically charge fully in just a few hours. They're easy to install too, just secure them with 3M tape or use the included screws for effortless installation.
They're also pretty small in size, meaning these solar step lights will blend in perfectly with decking areas. With no wires, there's also zero chance of tripping up over them.
Available in a pack of 12, these solar-powered lights will add some glamor to your home. Each light features a bronze finish and 3 lumens. The auto function means they will switch on at dusk and off at dawn, making them very convenient.
Davinci Lighting FlexFit Solar Outdoor Post Cap Lights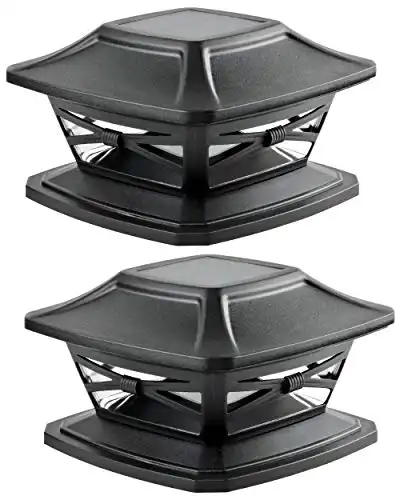 Looking for the best solar deck lights for a smaller area? Take a look at these lights from Davinci. Available in a pack of 2, each solar light is designed to sit on top of your decking posts to add an elegant touch as well as light up the area to create ambiance.
They attach to any round or square deck post measuring 4 – 6 inches, or any other flat surface. Each light has been given an IP44 waterproof rating so it's able to stand up to bad weather. No need to worry about covering them up during a rainstorm!
Each solar light is constructed from industrial-strength tempered glass and plastic and comes in either black or white.
These solar step lights are also easy to install and their neutral design will blend with your existing decor. They're also a great option for illuminating stairs or deck steps to make them safer to walk down.
VOLISUN Solar Deck Lights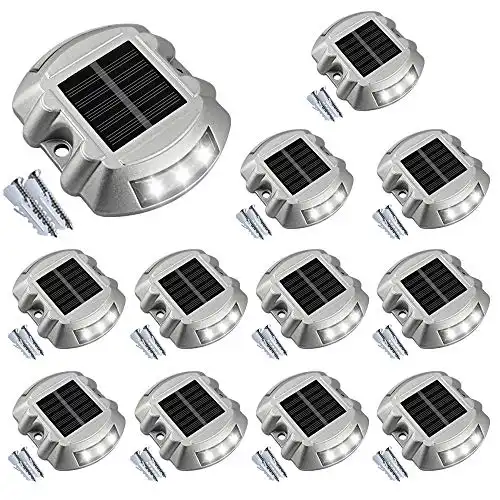 The best solar deck lights should be effective and easy to use, and that's exactly what these deck lights from VOLISUN offer. The eco-friendly solar panels use the sun to recharge during the day so they can operate when dusk falls.
Each solar light has 6 LED lights that provide a warm glow for instant illumination. They feature an integrated 600mAh battery, and one solar charge only takes 6-8 hours in direct sunlight.
With an IP67 weatherproof rating, you don't need to worry about the deck lights being ruined by rain or wind. The premium quality metal frame is super strong and durable.
The installation is quick and easy and they can be installed anywhere as long as it's exposed to sunlight; no wires and zero electricity bills to worry about. Your purchase includes screws so you can fix them wherever you want to.
These solar deck lights are also approved by the FCC. With a net weight of just 0.65 pounds, these lights are ultra-lightweight and easy to handle.
GEEKHOM Solar Deck Lights
When you're buying solar deck lights, they must be not only functional but attractive, too. These unique deck lights from GEEKHOM will add a stunning and glamorous touch to any lawn or decking area.
The GEEKHOM solar deck lights have 2 available modes to meet different needs. The warm white mode is perfect for everyday use while the 7-color changing mode is ideal for parties or evening festivities. Easy to operate, simply use the inside button to switch between the 2 modes.
It features a functional solar panel that's powered entirely by the sun, so no extra batteries or electricity are needed! Simply place the lights where they can get plenty of sunlight and they'll be fully charged in just 4-5 hours.
The deck lights automatically turn on once dusk falls and turn off at dawn to avoid wasting the charge. The acrylic and ABS outer shell mean the lights are very durable and the IP55 waterproof rating means they can withstand rain and other adverse weather conditions.
You can install them in 2 different ways; either facing forward or back, making them suitable for the patio, railings, deck posts, or lawn. No wires make installing it super easy, simply use the included screws to attach them wherever you want.
Your purchase will also come complete with a 2-year warranty and a 60-day money-back guarantee for peace of mind. For any queries, the customer service team is always on hand to help.
Aootek 182 Solar Outdoor Motion Sensor Lights
Last but not least, I highly recommend these motion-activated lights from Aootek! These motion sensor security lights contain LED lights and boast a huge 15.3-inch high-quality solar panel for effortless energy charging.
The Aootek 182 solar lights feature 3 lighting modes. One is a security light where the motion sensor automatically switches on whenever someone walks past. It then turns off when the person leaves.
The second mode involves the bulb emitting light overnight, and the third mode is the smart brightness control, which stays on all night but goes brighter when motion is sensed.
Constructed from waterproof and heatproof IP65 waterproof materials, these solar deck lights are great for lots of different places, as well as being a useful security measure. The installation is very simple and it's ideal for installing on stairs or steps too.
Why You Should Trust My Reviews
I started my research by compiling a list of the top 20 rated solar deck lights that are available for sale on Amazon, Walmart, & Home Depot. I chose those retailers because they provide nationwide shipping and are marketplaces that almost anyone can easily access.
From there, I researched the features and benefits before moving on to the testing and comparison phases.
In total, I spent over 5 hours of personal research time and also got feedback from other people who have direct first hand use with each of the solar deck lights on the list.
How I Chose The Best Solar Deck Lights
I considered the following factors when researching my reviews of solar deck lights:
Price
Light Settings
Brightness Levels
Running Time
Design
Weather Resistance
Battery
Price
Like most purchases, the price should match the quality and solar deck lights are no exception. I factored price into my scoring model, so for a brand to charge more, I expect to see higher quality and more features.
The thing to avoid is spending lots of money without first reading any solar deck light reviews. Be sure to do your research and pick the lights that are most suitable for your needs. Also, remember that the most expensive ones aren't necessarily the best quality.
Light Settings
I prefer solar deck lights that provide at least 2, preferably 3, different lighting modes or colors.
Warm white lighting is always a great choice for lighting up a decking area. This type of light provides a nice soft glow like a candle, which is pleasant and doesn't hurt your eyes. After the festivities are over or if no one is using the deck area, you can switch to cool white light.
I also personally enjoy lights with RBG settings so you can add pops of color to your deck when the mood calls for it.
Brightness Levels
A light's output is the amount of light created, which is measured in lumens. A gentle brightness has the ability to create ambiance, whereas a solar deck light with blinding brightness is going to cause discomfort to the eyes.
To find out the brightness levels, be sure to check the lumen count just as you would for indoor bulbs. If the lights have a low amount of lumens, be sure to install more of them to get the ideal amount of lighting. However, don't install too many as high brightness levels can damage eyesight.
Typically, a high-quality set of solar deck lights will have around 120 lumens whereas lower performing models may have less than 100. String deck lights will generally have fewer lumens per bulb when compared to singular solar deck lights.
Running Time
The best solar deck lights take as little time to charge as possible. Many models only need around 5 hours to charge completely and can provide light for more than 8 hours.
Other lower quality models may take longer to charge and also provide less power. For this reason, be sure to check the recharge and run time of the deck lights before you decide to buy them. Choosing solar deck lights with a quicker recharge time will be more time-saving.
Design
Solar deck lights come in many different designs and styles. As technology improves, more designs are created and released every year and you can usually find a set of lights to match your existing outdoor decor.
Some solar lights have really beautiful designs on their housings, adding a really decorative touch to your decking area. If your home is quite modern, then a clean and minimalistic design would look perfect.
On the other hand, if your decor is more traditional and rustic, you'll probably have more design and style options. The different color options will also help you to create different moods depending on the event.
Weather Resistance
Weather resistance also factored into my reviews. Because your solar lights are going to be outside, high weather resistance is essential for it to cope with rain, wind, and other weather conditions. Also, weatherproof solar lights mean that the solar panel will be protected.
If the panel gets wet the brightness levels will be affected and you won't get the most out of your purchase. Waterproofing is vital to prevent short-circuits of the electrical components. Also, heat resistance is important so the lights aren't damaged from excess heat.
Look for solar lights that have IP weather resistance ratings. IP44, 45, and 65 are the most common ratings in solar lights. These ratings provide the protection each solar light needs from rain and other adverse weather conditions.
Battery
The sun's rays will directly shine on the solar panels, which is what will power up the built-in batteries of the lights. The batteries will provide the essential power needed for the deck lights to work.
For this reason, it's essential to check the battery levels before purchasing your new solar deck light set. For longer periods of use, choose a larger battery capacity (one that has a higher mAh rating).
Different deck lights will come with different types of batteries, including lithium iron phosphate, lead-acid, or lithium-ion batteries. Out of all these batteries, lithium-ion lasts the longest and are the most widely used.
FAQs
Do Solar Deck Lights Need Sunlight To Work?
Solar lights don't actually need direct sunlight to be able to charge. They are in fact capable of charging in overcast conditions. With the recent advancements in solar technology, these lights can be charged using artificial light as well as natural light. This technology means the lights can also charge on cloudy days.
How Long Do Solar Deck Lights Last?
Solar deck lights typically last around 3-5 years. The LED lights in solar lights can run for around 100,000 hours before they need replacing. Models with rechargeable batteries can last up to 5 years if they're looked after well.
Are Solar Deck Lights Easy To Install?
Yes, the majority of solar deck lights are quick and easy to install. The great thing about them is that they can be used in many different places. They can be used on steps, along railings, or along deck pathways.
What Are The Different Types of Solar Deck Lights?
Decks come in all shapes and sizes and so do solar deck lights. Some of the more popular types are:
Flush Mount Solar Deck Lights
Flush mount solar deck lights are mounted directly onto the deck surface, creating a sleek and seamless look. These lights are small and compact and they sit flush with the deck surface, which creates a cool downward glow. I use these on my own deck and love the aesthetic and overall vibe they add to my backyard.
Solar Deck Step Lights
Solar deck step lights were made to be installed on the vertical rise of each step, shining downward to light up the way. These lights are also usually small and compact and they are mounted on the edge of each step, illuminating the stairway. I also use these on my deck and they make it so much easier to avoid tripping on steps at night.
Solar Deck Rail Lights
Solar deck rail lights are designed to be mounted on the railings of your deck, creating a warm and inviting ambiance. These lights are usually small and sleek and can be installed directly onto the railing or with brackets. They are perfect for providing soft lighting to your deck area, making it a cozy and welcoming space.
Solar Deck Post Lights
Solar deck post lights are designed to be mounted on the posts of your deck, creating a stunning focal point for your outdoor space. These lights are usually tall and elegant and come in a variety of styles and finishes to match the decor of your deck.
Final Thoughts
Hopefully, now you have a good idea of what the best solar deck lights are. Having solar lighting on your decking area in the evening is the perfect way to add ambiance and a peaceful atmosphere, especially on pleasant summer evenings.
Solar deck lights are low-maintenance and apart from replacing the battery once a year, you won't have to do anything to them once they're installed. After reading through our reviews and buyer's guide, you should have a good idea of which solar lights are the right choice for your home.
All of our favorites are high-quality deck lights that provide the perfect amount of brightness. Whether you want a soft light or a super bright light, there's something for everyone. Whichever set you choose, you can't go wrong with one of our top picks!