Solar lamp posts are a classy yet affordable way of adding year round lighting to your yard, driveway, or garden.
This is our review of the best solar lamp posts available on the market today.
We'll share our top 10 favorites and pass along all the details we uncovered during our research process.
Let's get started!
Best Solar Lamp Posts of 2023
Best Solar Lamp Post Reviews
Best Overall: Sterno GL42309 Solar Lamp Post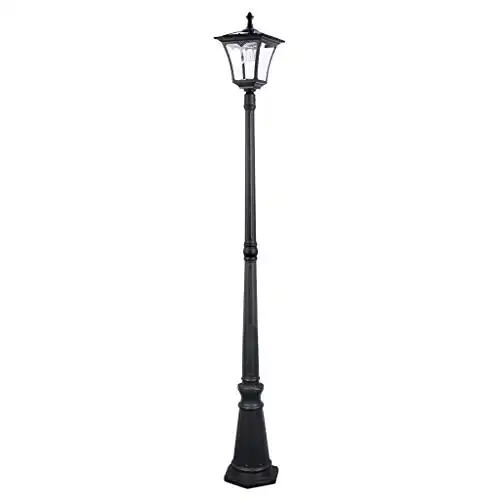 Sterno Solar Lamp Post
Key Features
Efficient LED Lamp Post - 60-lumen output solar lamp post.
Vintage Material - made from high-quality aluminum.
Easy Installation - easy to install four-piece lantern.
Dusk To Dawn Light - eight hours of solar power.
Buy Now
If you want a vintage lamp post that is built well and looks great, we recommend the Sterno solar GL42309 lamp post. This is the upgraded second generation version of their original design.
This lamp post is made from strong, rust-resistant cast aluminum and looks like it traveled to your garden in a time machine. This is the real deal!
There are four high-efficiency solar panels on top of the vintage lamp head. They are colored black to blend in with the design, but you wouldn't notice them on the top of such a tall lamp post. They charge silently through the day, and one solar panel provides 60 lumens of warm light through the night.
The Sterno solar-LED lamp post also gives you excellent solar energy efficiency. The lamp post uses three rechargeable batteries to power a highly efficient LED light bulb. You can expect this lamp post to light up your home from dusk to dawn on a single charge throughout the day.
Since this lamp post goes for authenticity by using traditional metal, you would expect its design to be equally vintage. The Sterno lamp post doesn't disappoint in this regard! Enjoy a vintage solar street light in your garden that gives you the brightness you need on your patio while looking fantastic.
This item is all about energy efficiency, and the bulb is a crucial component. You don't want your bulb to draw more than is needed from the grid, which is why the Sterno lamp is fitted with efficient LEDs.
Traditionally, this lamp style would have been made from cast iron. The next best thing is weatherproof cast aluminum. With cast aluminum, safety is a primary concern so ensure your heavy lamp is secured to the ground with wood and cement screws.
You can get started with the Sterno lamp right away – set up your vintage solar light posts in your garden, and start charging the solar battery thanks to the Sterno Lamp's easy assembly. The four-piece post is simple to assemble and anchor.
Best For Design: Gama Sonic GS Solar Lamp Posts

Gama Sonic GS Solar Lamp Posts
Key Features
Lithium-Ion Solar Battery - high-capacity, long-life battery.
Special Anchored Base - easy installation on different ground types.
Dusk To Dawn Lighting - eight hours of solar power.
Easy Installation - out-the-box setup.
Highly Decorative - authentic vintage-looking lamp post.
Buy Now
You want your outdoor solar lamp post to look authentic, but you also need it to function well and work in your garden – wherever you put it. That's why we've chosen the Gama Sonic GS solar lamp post as a stand-out lamp post when it comes to design.
The Gama Sonic GS solar lamp post is precisely how you would imagine vintage lamp posts from a Victorian street or a movie set in old New York to look. As well as a cute vintage globe to contain the modern solar light, this light even has "ladder handles" – not that you'll need them!
It also features an anchor mounting system on the base. This consists of a screw tap on the lamp's base that allows the item to be installed on any surface except concrete. It's a pretty neat design!
It uses a high-capacity lithium-ion solar battery to store the electricity generated by the solar panel throughout the day. The lamp gives you dusk to dawn lighting using its automatic sensor – around eight hours on a full charge.
If you think the best solar lamp post will require special installation, think again! The Gama Sonic solar lamp post is designed to be set up and installed by anyone – you don't need any special tools or knowledge to install it.
The Gama Sonic uses a lithium-ion solar battery, the best choice of battery for a solar light system. It provides excellent charge and discharge value. In addition, it offers longevity and doesn't require a backup battery. Expect this battery to last for years!
Another top design aspect of the Gama Sonic is the screw-in anchor base. It allows you to install it anywhere in your garden and on many more ground types than conventional anchor bases- except for concrete. This is the kind of security you want for your outdoor solar light – nobody wants their lamp to go crashing down in high winds.
Watch your solar lamp post switch on automatically in the evening, or enjoy its light at dawn when you head out for an early morning run, thanks to the light sensor. The Gama Sonic lamp post is also made to look as authentic as possible with its classic globe and ladder handles.
Best For Budget: Greluna Solar Lamp Post
Greluna Solar Lamp Post
Key Features
High-Quality Material - made from weatherproof metal.
Easy Installation - no wiring needed to install.
Budget-Friendly - excellent value for money.
Versatile - looks perfect anywhere.
LED Light Bulb - efficient solar lamp post light.
Buy Now
Why have one "globe" when you can have three? Take your outdoor lighting to the next level with this three globe street lamp brought to you by Greluna. But wait, doesn't that mean the lamp is more expensive? Actually, no, and there are further savings to be made!
When you buy the Greluna solar lamp post, you can expect to pay an average price for this type of product. But the real value is made in the long-term savings, as this product excels with its energy-saving potential thanks to exceptional energy efficiency.
Powered by twelve solar cells across the three globes, this lamp charges steadily throughout the day and provides automatic LED lighting at dawn, dusk, and through the night. On a full charge, this solar-LED lamp post offers around eight hours of light that doesn't affect your power bill.
Don't assume the lights will be difficult to set up and install because of their scale or because there are more globes. The setup and installation of the Greluna lamp is simple and doesn't require any special wiring, knowledge, or tools. You can assemble and install this item in mere minutes!
This vintage three globe lamp post is larger than many others on the list, but that doesn't mean it can't be put to use in a variety of places. So whether you want a stylish lamp for your front garden or a vintage patio light at the back, a Greluna solar lamp post is an excellent choice.
The Greluna solar lamp post might look like it's made from cast iron or steel, but it's actually made from high-quality plastic. This makes it easy to install and safe to use – you can set up this lamp post in minutes in your front or back yard. It can also be moved easily if you want a change of scenery.
The Greluna lamp offers a competitive price tag, but the real saving is in the energy-saving batteries that are efficient and can be cheaply replaced when they inevitably wear out. The Greluna lamp uses three independent LED light bulbs inside each lens.
Best For Gates: FUDESY Solar Lamp Posts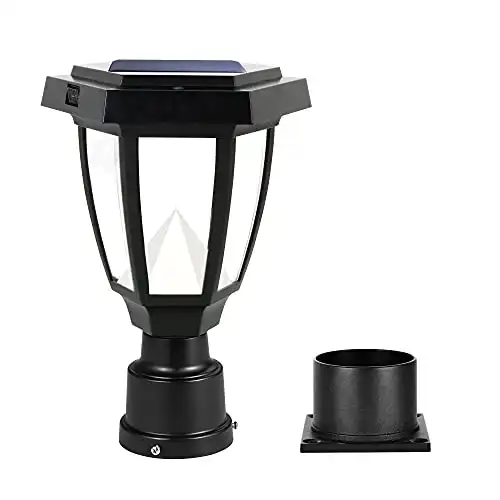 FUDESY Solar Lamp Posts
Key Features
Excellent Solar LED Lamp Post - innovative outdoor solar lamp post.
Versatile - you can use this solar lantern post anywhere.
Fully Waterproof - high-density waterproof material.
Easy To Install - simple gatepost setup.
After-Sale Care - 12-month worry-free warranty.
Buy Now
Maybe you have some posts on your garden gate that you think could benefit from some luminosity? Or perhaps you want some vintage solar lights for your garden but don't want the tall standing ones. For these reasons and more, you might like the FUDESY solar lamp posts.
Having lights on your gate is a massive plus when you get home late from a night out with friends. It's also handy for your guests when they leave your house after a garden party. With a solar lamp post on your gate, you don't even need to think about switching them on or charging them.
The FUDESY solar lamps for gates are a fraction of the size of tall standing vintage lamps. In fact, it is only the globe part that's used, with a neat connecting base that fits easily onto your gate. The lamp uses a lithium-ion battery and switches on automatically.
When you first set up the solar lamp post, you need to switch them off to let the battery charge fully from the solar panel. After this, you can switch it on, and the lamp will work automatically. It will come on at dusk and switch off at dawn, giving you eight hours of light in between.
Needless to say, these lamps will have to contend with different weather conditions – you don't only want them for the summer months. But, not to worry, as they are made using the toughest rust-resistant cast aluminum that is weatherproof, shockproof, and dustproof.
This outdoor lighting is ideal for gates, but it can be used as solar post light in any part of the garden or patio – you can also use them as walkway lights and for camping. They look as though they're made from robust steel, but they are actually made from attractive high-density plastic.
The item is small and simple to set up. You don't need any electrical knowledge or special tools; simply find a post that's around three inches wide, and the solar post light fits neatly onto it. This product comes with a twelve-month warranty giving you confidence and some recourse if you're disappointed.
Best For Price: Meluner Solar Lamp Post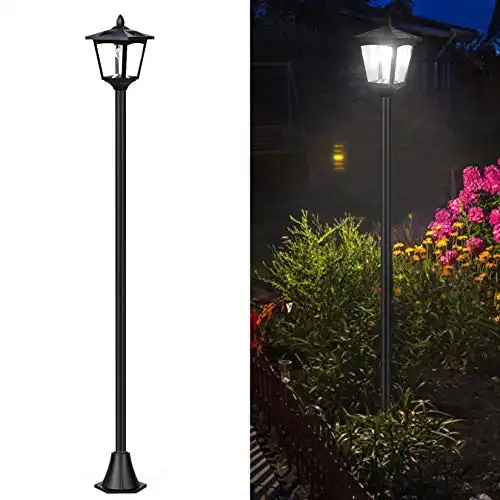 Meluner Solar Lamp Post
Key Features
Excellent Price - low-cost, high-quality solar lantern posts.
High-Efficiency Solar Panels - uses four solar panels.
Excellent Lamp Brightness - high-efficiency LEDs.
Two Brightness Settings - choose low-high brightness levels.
Efficient Charging - can charge in low-level light.
Easy Installation - assemble in 5 minutes without tools.
Rust-Resistant Cast Aluminum - high-quality outdoor lighting.
Buy Now
Have you always loved the vintage-style street lights you see in black and white movies? Think of "It's a Wonderful Life" or "Mary Poppins." Now you can have those same street lights on your very own lawn!
The Meluner solar lamp posts are the 'best for price', offering excellent value at a low cost. In terms of style, they look suitably vintage but not over-the-top ornate.
As you might expect, this solar lamp post doesn't require electricity. Instead, it is completely powered by the sun's solar radiation, meaning they charge in daylight and turn on automatically at dusk and dawn – no need for a lamplighter nowadays. They also have two brightness levels.
When it comes to your brightness levels, you can choose between low and high. After a full charge throughout the day, the Meluner solar lamp post gives you a full eight hours of light on the low setting (25LM). For more intense bright white light, you receive six hours on high.
Normally a garden feature like this would have to be carefully assembled by a professional and securely installed. None of this is necessary with the Meluner lamp post. Almost anyone can set it up – no tools are needed as there is also no electrical wiring required. Remember to set it up in a bright area to maximize solar charging.
Each lamp post has four solar panels to maximize solar absorption from any angle, and you can choose from two brightness settings.
Use the high setting if you need brighter light outside for a social gathering; otherwise, set the lights low to make the most of them long-term. It means you always have bright white light through the night for visibility and security, the perfect no-effort no-cost service.
You can set them up in minutes and start charging them immediately. The solar panels charge the battery using daylight, not direct sunlight – meaning your garden solar lamp post will still charge on cloudy days and in low-level light.
Best For Fixtures: Kemeco Solar Lamp Posts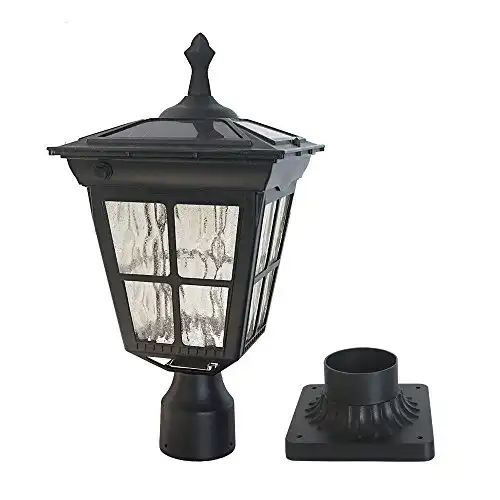 Kemeco Solar Lamp Posts
Key Features
Multiple Fixtures - stands alone or fits to gate posts.
Automatic Switches - detects low-light levels.
Easy Setup - assemble easily without wires.
High-Powered Lighting - enjoy up to 150 lumens of light.
Fully Weatherproof - made from cast aluminum and glass.
Buy Now
If you only want a solar powered lamp for your gate or fence post, or even one to sit on a wall to light a walkway, consider this light from Kemeco.
These lamps are designed to fit on gates and fence posts but can also be placed on a patio deck or a wall. This item uses a 2300mAh rechargeable battery giving the solar system high performance. It also turns on automatically for convenience.
This lamp has two options for installation. First, it has a handy base that allows you to safely place the cast aluminum lamp on the ground or a wall. Secondly, it also has a bracket base that gives you more options to install it on a gate or fencepost.
As we mentioned, this item is made using cast aluminum that gives the lamp weight and authenticity. It also makes it waterproof and weatherproof, so you don't have to worry about it rusting or getting damaged in high winds. Try to ensure the solar panel has good access to daylight for effective charging.
The Kemeco lamp also wins when it comes to fixtures. Not every solar lamp post light has the ability to stand alone or attached to a fence post. This gives you plenty of options for your garden. One of the great things about this solar lamp are the automatic LEDs that detect light and come on automatically. This means you never have to worry about switching the lights on when it gets dark – it's all done for you!
Don't worry if you don't have any electrical knowledge either; you can still set this lamp head up in minutes. It is also straightforward to attach to a gate or a fence post. The Kemeco lamp head uses twelve high-powered LED lights to give you a maximum brightness of 150 lumens – more than enough for your patio area or garden walkway.
Best For Planters: Kemeco Solar Planter Lamp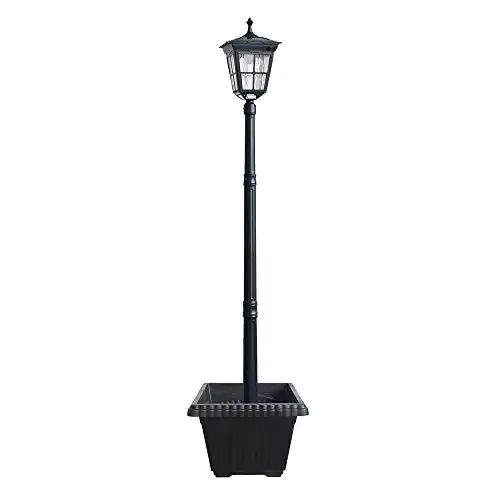 Kemeco Solar Planter Lamp
Key Features
Energy-Saving Lamp - rechargeable outdoor lighting.
Easy Re-Location - set the planet up anywhere.
Planter Feature - grow flowers at the base of the lamp.
Bright LED Bulbs - benefits from up to 150 lumens.
Durable Design - made from cast aluminum metal.
Buy Now
Wouldn't it would be awesome if you could have a vintage solar lamp in your garden that looked as good as the ones on a movie set?
Now you can have that same item, right in your own garden! Not only is the Kemeco a beautiful traditional vintage lamp post, but it also offers extra space to grow some of your favorite blooms and plants around the bottom. So if this sounds like something you'd like in your garden, take a look at the Kemeco Solar Planter Lamp.
This vintage planter lamp uses high-quality rechargeable batteries and bright LED bulbs. The lamp will switch on automatically when it detects low light at dawn or dusk, so there's no need to monitor the lamp or your power bill. This light is free, courtesy of the sun!
This solar planter lamp is designed to be easy to set up and move. It arrives in a series of joined parts; you can then situate the lamp anywhere in your garden. The great thing is, it doesn't have to stay there. Instead, the lamp can be easily moved to give you a stunning planter in a new location.
Although the planter lamp is easy to move and set up in different locations, it isn't made of cheap plastic. When you buy this item, you buy a lamp that looks and feels like the real deal. It's made from cast aluminum, which is durable and fully weatherproof!
It's not only the sun that saves you money with this planter lamp – the battery does too. This lamp saves you energy on your power bill by using a battery that doesn't need to be replaced if used correctly. Remember to charge it fully before use.
Never again strain your eyes in the dark as the light starts to fade or have trouble finding your keys at the front door; this planter lamp has 150-lumen bulbs with up to eight hours of brightness – so if you want your lamp to look and feel truly vintage, invest in this aluminum vintage planter lamp.
Best For Style: Gama Sonic Solar Lamp Post Lights
Gama Sonic Solar Lamp Post Lights
Key Features
Patented Solar Smart Creations - traditional bulbs with a difference.
Dusk To Dawn Lighting - high-quality outdoor lighting.
Zero Wiring - simple electrical setup inside the shell.
Weatherproof Shell - highly weather resilient and long-lasting.
Easy Installation - quick and easy installation, saving you time and effort.
Buy Now
Suppose you prefer a more American vintage look for your garden lamps. In that case, you'll love these Gama Sonic lamps based on traditional lamps from the streets of New Orleans. This style of lamp was originally gas-powered. Today, they have zero maintenance.
It's not surprising why companies like Gama Sonic have decided to model a solar garden lamp post on these vintage designs. A gaslight street lamp might be a thing of the past, but there's no reason we can't still enjoy the timeless design and the quality manufacturing of the original.
The Gama Sonic uses patented solar technology to give you more authenticity with this product, using solar technology to power conventional-looking light bulbs. You wouldn't even know the difference! Better yet, these bulbs have a ten-year lifespan.
With one of these lamps shining effortlessly in your garden, you won't have any trouble with low light levels in the morning or evening. The lamp's automatic sensor detects low-level light and turns on by itself, having charged up all day in the sun or daylight- no need for a lamplighter here!
There's no need for any electrical wiring or special installation process either. Simply assemble the lamp right out of the box and choose a suitable location in your garden. Choose a place without shade if possible. The lamp then fits securely onto the ground to avoid any safety issues.
This lamp uses a special light bulb that looks exactly like a conventional phosphorescent bulb. The difference is, this one is entirely solar powered with a 10-year lifespan. When the battery is sufficiently charged throughout the day, the lamp's in-built sensor will detect low-level light and switch on automatically.
You might think this product has a mess of wires inside that need to be properly connected when setting up. Fortunately, that's not the case. There are very few wires, and they are already connected, making installation easy.
Gama Sonic strives for authenticity in their lamps, which means they need a vintage material that lasts. Cast aluminum is the best choice for a high-quality, long-life product and is used here.
Best For Brightness: Sterno GL23716BK Solar Street Light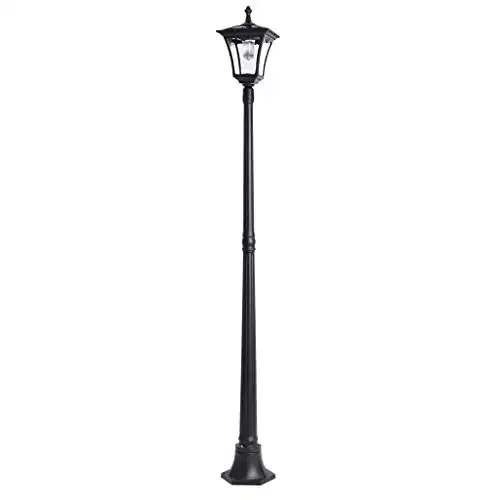 Sterno Home GL23716BK Outdoor Solar LED Street Light
Key Features:
Solar-Powered Light - brightest solar lamp post.
Energy-Efficient - automatic low light detection.
Vintage Design - classic vintage design.
Fully Weatherproof - made from durable material.
Excellent Brightness - uses twelve LED bulbs.
Buy Now
As with other outdoor space lamp posts on the list, the Sterno Home GL23716BK is suitably vintage and extremely durable. Like its big brother, the number one spot on the list, this lamp is designed with authentic materials. The difference is that this solar lamp post light is far more affordable, making it ideal for those on a budget.
Yet, these aren't the stand-out features of the Sterno solar powered lamp. What makes this one different is its excellent brightness and energy efficiency. The lamp uses four high-quality solar panels on top of the globe to charge an internal battery. The lamp then glows with 12 LEDs.
This lamp is optimized for long-term efficiency, so you can rely on your outdoor solar lamp for years to come. It is entirely powered by direct sunlight and daylight. It charges effortlessly throughout the day and gives you different brightness levels depending on your garden requirements.
As well as high-quality LED lighting with no additional power costs, this lamp from Sterno lamp brings a vintage charm to your garden. It is made from high-quality cast aluminum that feels robust and is made to last. In addition, this excellent material is resistant to rain, lightning, and rust.
But the primary feature of this outdoor solar lamp is the brightness levels it can achieve with its 12 LEDs. Whether you want extra brightness for the garden at dusk or dawn, or you need some soft ambient lighting to light walkways for a special occasion, this lamp delivers.
This vintage solar lighting system is powered entirely by the sun, but that doesn't mean it needs direct sunlight to operate. The lamp will also charge in daylight and give you dusk to dawn lighting. Since the lamp is charged solely by the sun, no additional power is taken from the grid. This is great news for the environment and your pocket. Who says no to free lighting?
This lamp from Sterno captures exactly how you would imagine a lamp on a foggy London street centuries ago. But unlike those ancient London street lamps, the solar Sterno lamp is fully weatherproof and won't rust. This is down to its cast aluminum finish.
Best Mini Lamp: Greluna Solar Mini Lamp Post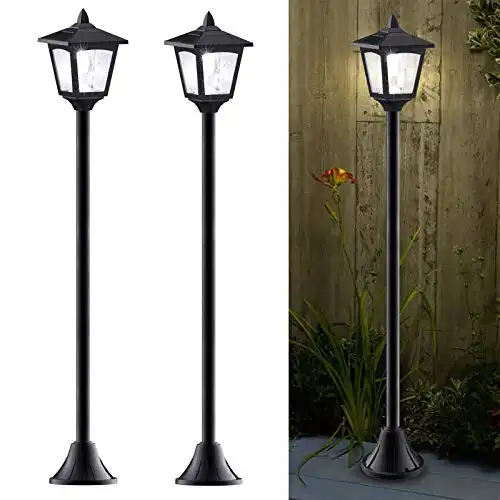 Greluna Solar Mini Lamp Post
Key Features
Fixed Bases - install the lamp securely and safely.
Efficient Solar System - provides eight hours of free electrical light.
Simple Installation - no wiring needed, easy to install.
Waterproof And Weatherproof - has a weatherproof rating of IP44.
Extremely Versatile - use in driveways, walkways, and porches.
Buy Now
Some people love a full-sized solar street lamp post in their garden. It looks and feels exactly like the real thing, and you can see it from the street when you drive past. But the full-sized model isn't for everyone… enter the mini solar lamp posts from Greluna.
Mini vintage solar post lights are more versatile. You can move these mini lamp posts around your garden very easily – the same as moving a planter to a different location. They are also super cute and look lovely when guarding the entrance to your home or garden shed.
Please be in no doubt about the quality or authenticity of mini solar post lights. The truth is they are made in much the same way as traditional post lights. They have four solar panels on top of the globe to capture as much solar light as possible. They also have highly efficient batteries.
These lamps charge effortlessly in your garden throughout the day – between 6 – 8 hours. This gives you 8 hours of solar light in the evening and through the night. There's no special wiring to hook up, and the light is entirely free – so no unexpected charges on your energy bill!
When you go with the mini version of the solar post lights, you get an extra one for good measure; so you effectively get two street lamps instead of one in your box. That's perfect for framing your doorway with authentic street lamps that provide solar lighting and some lovely decoration.
These lamps have fixed base anchors that fit easily to most surfaces – excluding concrete. They are easy to install, and the fixed base design gives you some added safety. The lights might be small, but they have the power where it counts – they use four panels and a high-quality lithium-ion battery pack to give 8 hours of solar lighting.
After your solar lights arrive, you can set them up in minutes. First, take them out of the box and fit the parts together, then choose a nice spot and let them charge up. These mini solar lamps have a waterproof rating of IP44, making them suitable for all kinds of weather – it doesn't matter where you live; these lamps will work reliably for a long time.
Solar Lamp Post Buying Guide
Weatherproof
Solar lamp posts are designed for the garden. You want them to illuminate your patio, walkway, or drive all year round, so they need to be weatherproof. The good news is most of them are, but depending on the material used, certain solar lamps might have a longer life cycle.
On the lower end of the price scale, you're looking at a solar lamp post made of high-density plastic. This looks like metal but is lighter and safer while still being an all-weather material. The best, however, is cast aluminum, which is more durable but still resistant to corrosion.
Of course, there are benefits to both materials; generally speaking, though, high-density plastic is cheaper but lighter. It is easier to move around and unlikely to fall over. Cast aluminum is more authentic and durable, but it might be heavier to install and needs to be fitted securely.
Price
The price of outdoor solar lamps is determined by the type of material used for the shell and the quality of the solar system. If you want more brightness and a better life span, you will need high-quality photovoltaic cells and larger LED bulbs. This leads to a higher price point.
The other consideration is the material. High-density plastic works well for outdoor solar light but isn't as resilient as cast aluminum. Cast aluminum is also more expensive to produce, which affects the price point. Often, you can tell the standard of the solar system by its price point.
Style
Vintage solar lamps are designed with style in mind. However, there is often very little variation in the style of most vintage outdoor solar lamps.
Sometimes a vintage solar lamp is modeled on a generic idea of a vintage street lamp; other times, the model is a particular street lamp from a time period or a particular city. The choice is yours. Bear in mind that more detailed designs might command a higher asking price.
The style you decide on depends on how authentic you want the street light to look, but remember that less expensive vintage lamps can still look impressive in the garden, and not too many people can tell the difference. This is something to factor into your buying decision.
Quality
The quality of a solar street lamp is determined by the shell material, the photovoltaic cells, battery, and LED bulbs.
This influences the product's price point. Of course, you will still get good value for money with a lower-priced lamp, but it won't have the same life cycle as premium options.
If you choose a lamp that uses cast aluminum for the shell, you can be confident that it will protect the electronics and stand up to weather conditions wherever you live – at the end of the day, it's a higher quality material.
Always remember to check the efficiency of the solar cells and opt for lithium-ion batteries. You want a system that charges up quickly during the day, even in cloudy light conditions. If you don't, your lamp may not power through the night.
Installation
In most cases, the installation of the solar lamp is straightforward. They can be assembled straight out of the box and don't have any complex wiring inside.
The solar cells are generally located on the roof of the plastic dome lens, and the lithium-ion battery pack is contained inside. Everything is set up and ready to roll!
However, you might encounter some installation issues with lamps designed to fit on gates and fenceposts. Although they are designed to fit posts easily, you might have to adapt the post slightly or buy one with the correct dimensions. Other lamps have a base that can be anchored to the ground.
Heavier lamps like the ones made from cast aluminum will have to be installed safely to prevent them from falling over and causing an accident. The lamp will come with installation instructions for you to follow. Most of these lamps are easy to install and can be set up in minutes.
Versatility
You might have a set idea about how you want to use your new solar street lamp but then change your mind. For this reason, it's good to have a solar lamp that's versatile in terms of its placement and brightness. The most versatile lamps on the list are the planter lamps and mini lamps.
A planter lamp is lightweight and movable. It allows you to change the layout of your garden by moving the solar light and planter to a new location. Similarly, the mini lamps are super versatile. They can be used for simple walkway lighting or as doorway sentries.
Brightness
The brightest solar lamp post is determined by the quality of the solar cell and the brightness of the LED bulbs. The battery capacity will determine how long your solar light lasts at a particular brightness level. You will find that some solar lights have low and high brightness settings that come in handy!
Consider the brightness range you need in your garden and what the lamp will be used for. For example, if you want a vintage street lamp for solar walkway lighting, it might be better to have low-level brightness that lasts longer. But for gatherings, you want bright illumination.
Decoration
Vintage street lamps are designed with decoration in mind. People who buy a vintage street lamp want the retro look with modern solar capabilities. So when it comes to decoration, you can't go wrong! Lookup any vintage solar street lamp on the list above, and you'll find what you're looking for.
Still, there are different styles to choose from within the niche. For example, you might like a black stand with a single globe; alternatively, you could have the same design but with three globes. Other street lamps have decorative ladder handles that are redundant in the 21st century – but so what!
FAQs
What Is The Number One Solar Lamp Post?
The number one solar lamp post isn't necessarily the one with the lowest price. Instead, it's the solar lamp post that gives you the best value on all the purchase points. That is, design, solar cells, battery, installation, and price. On this list, the Sterno is the stand-out choice for us.
The Sterno solar lamp is an excellent all-rounder. It's made from cast aluminum and offers increased brightness with 60 lumens LEDs. The lamp gives off a warm glow that looks exactly like the real thing. It's also effortless to install, thanks to its broad base.
That's not all! The Sterno lamp comes in at an excellent price point for what it offers. It is not the cheapest option by far, but you will be hard-pressed to find a solar panel lamp with these features for less. You won't be disappointed if you choose this premium solar lamp.
How Good Are Solar Lamp Posts?
A solar powered lamp post is an excellent way to bring more light into your garden, create ambiance, or enjoy some unique vintage decoration. Remember, solar lighting is free of charge, courtesy of the sun, so you can factor this into your buying decision.
Solar lamp posts aren't only for decoration; they're designed to perform a useful function in your garden. If you want to light a deck, walkway, a driveway, patio, or a doorway, you could choose special lighting for this purpose, but a solar street light will also do the job.
Like any street lamp, a solar lamp is designed to cast light 360 degrees from a height of a few meters. This is exactly how a solar street light works in your garden. You get a pool of light underneath the lamp and a range that depends on the quality of the solar cells and LED bulbs.
What Is The Best Solar Lamp Post Brand?
The list above contains some of the top brand names in the solar lamp niche. Examples are Sterno, Gama Sonic, Greluna, and Kemeco. Each brand has its own approach to solar lamp design, and you will find different styles and features at different price points.
Sterno offers pragmatic designs that use durable, high-quality materials. Expect solar lamps that look the part but are also slightly generic. Gama Sonic is a brand leader when it comes to design, as you can tell from the unique screw anchor base.
Read Also: Best Outdoor Solar Lights: Reviews & Buying Guide
Overall, Kemeco is our choice for the best solar lamp brand. They make beautiful solar lights from metal and glass. They also use high-quality solar systems to give you excellent performance and a range of settings. Kemeco builds solar lamps with innovative designs, like the planter lamp.
How Bright Are Solar Lamp Post Lights?
The brightness of your solar powered lamp post depends on the quality of the solar cell and the light output capacity of the LED bulbs. For residential homes, you don't need light output above 150 lumens. In most cases, you will need far less, which is why solar lamps often give you around 50 or 60 lumens.
At 50 or 60 lumens, your solar powered lamp posts should be able to light a walkway and illuminate a reasonable range in the garden or patio; but solar powered lamp posts are also available with higher luminosity. So if you want added brightness on your property, choose a lamp with more lumens.
The trouble with higher lumens is the battery. More brightness runs the battery down sooner and charging it is intermittent. Some models give you the option of low or high brightness. This setting is handy if you use light for visibility and entertainment.
Final Thoughts
Throwback culture is here to stay!
It was only a matter of time before people recognized the possibilities of solar street lamps.
The beautiful thing about these products is how they revive a lost style and modify it with the latest planet-friendly technology. What's not to love?
As well as being super stylish and modern, solar powered lamp posts are also exceptionally functional. They give you bright illumination in your garden completely free of charge.
Imagine the kind of savings you could make on your power bill!
So, why wait around for your energy use to go up? Order a solar lamp post today and give your lawn a unique charm!