You could be in danger. There, we said it.
Let's face the facts. Home security is important, but there's no way of defending your family and assets around the clock. Whether you own a house, RV, farm, or remote property, you can't be in every place at the same time.
That's where security cameras come into the picture. If there were ever a more convenient way of keeping an eye on your home, outdoor surveillance would be the answer.
Still, burglars are getting used to the old tricks. Pesky wires hanging from the camera can sell out your security system. Not to mention the fact that they won't work during a power outage. You could be leaving your home vulnerable to the same risks. Luckily, there's a solution.
If you're into eco-friendly, easy-to-use options, then your best bet would be to swap for a solar-powered security camera.
We all have security needs, but that doesn't mean we all need the same level of protection. Plus, with all the security camera options on the market, it can be hard to choose an ideal fit. No one wants to find out they made a bad purchase after they leave the store.
Hence, we made it our duty to find the best solar-powered security camera today for your home. In this guide, you'll find reviews of the top systems available right now, along with tips to help make your choice.
The Best Solar Powered Security Cameras of 2021
Not all solar security cameras are alike. Some vary in image quality, night vision, and even battery life. We often say prevention is better than cure.
Well, in this case, surveillance is better than a loss. Your best defense might be in our list below. Why not check it out?
Solar Powered Security Camera Reviews
Best Overall: SOLIOM Wireless Security Camera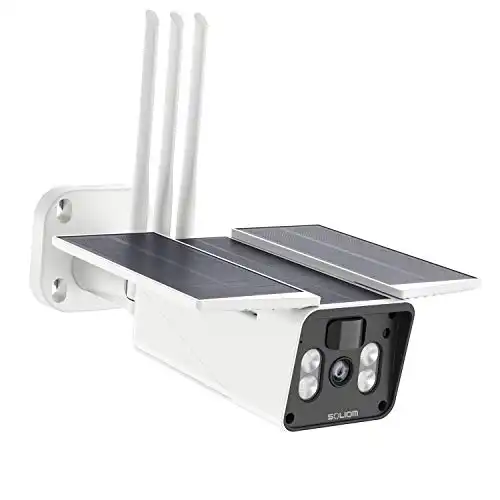 This solar-powered security camera from SOLIOM makes the top of our list with its combination of quality features.
The system uses high-resolution 1080p video clips to help you identify any person lurking on your property. You'll be able to spot them from as far as 32 feet in the dark with its LED night vision.
Its 160-degree viewing angle will record footage of anything within your yard. Most motion sensor cameras tend to switch on after the slightest breeze. But with the SOLIOM, you can adjust between its three levels of sensitivity to ensure that it only detects specific movements.
Feel free to check in on your property with its convenient mobile app. The camera will sync with your phone to take snapshots and mini clips of the area. If you don't have an SD card, the system will keep all recordings saved on the cloud.
Rain, snow, or sunshine, this camera is sure to last. Its weather-resistant plastic will protect from harsh winter temperatures and scorching summer suns.
Runner Up: REOLINK Outdoor Security Camera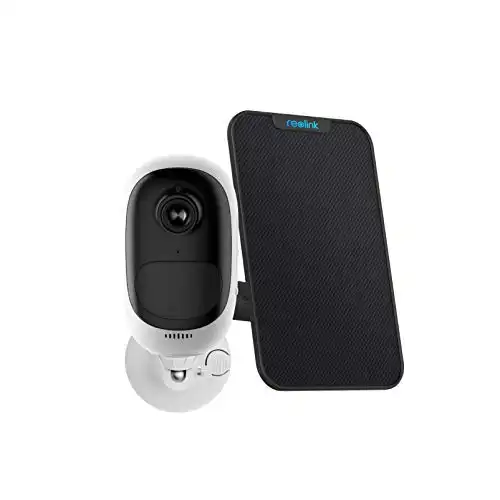 REOLINK Outdoor Security Camera
Mobile phone compatibility
Syncs with ALEXA and Google Assistant
2.4 GHz WiFi connectivity
1080p full HD video camera
Starlight night vision
130-degree viewing angle
Two-way audio system
Easy installation
Micro SD and cloud storage
Weather-resistant; IP65 certified
Buy Now
When it comes to being techy, our second-to-best from REOLINK makes the cut. The surveillance camera can work with ALEXA and your Google Assistant to help you manage home security from afar.
With the help of a steady WiFi connection, you'll be able to view high-definition 1080p videos. The system comes with a starlight CMOS sensor and infrared LEDs that give clear images even at night. Get a recording of any movement within a 130-degree radius.
The beauty of this camera is in its two-way audio that lets you listen and respond to family, friends, or intruders around your home. The key is to install it in an ideal location – just follow the directions, and you'll be done within minutes!
On another note, there's a micro SD card slot included in the model. Save up to 64 GB of videos straight onto your memory.
But besides that, all footage gets backed up via cloud storage. In the event of a break-in, you can easily pull up your video history to track the incident.
Best Floodlight: ENSTER Wireless Solar Battery Powered Security Camera
ENSTER introduces a security camera system with impressive floodlight capabilities. At day, its HD video camera can cover up to 20 feet of space. By night, its built-in bulbs will light over a 16-foot distance.
The motion sensors in the floodlights will send an alarm to your phone whenever they detect movement within 120 degrees. They use a 2.4 GHz WiFi signal to connect to your mobile. That way, you can use the app to check who's entering your yard or garden.
Like many other models on our list, the security camera from ENSTER includes an SD card slot. There's no need to worry about losing your evidence. You can store up to 128 GB of footage onto your removable memory.
This is no flimsy knock-off. Its body comes in durable, waterproof, and weather-resistant plastic. Ergo, you can expect this camera to last far longer than the cheap brands.
As a bonus, the package includes adhesive tape that you can use to secure your surveillance camera at strategic points on your property.
Budget Pick: LC Lenercom Solar Powered Security Camera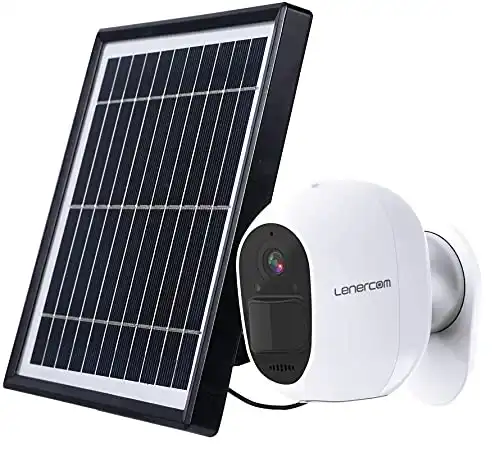 Are you looking for top-level security at an affordable price? You're in luck. The Lenercom Solar offers a taste of the very best camera features at under $100.
You'll be investing in a system with 1080p video and passive infrared (PIR) night vision. It will record all movement within a 120-degree field of vision.
The lens works together with its motion sensor to capture images of objects up to 33 feet away from your home. Receive updates from the surveillance camera within two seconds after it detects motion.
Its WiFi connection will even allow you to view live footage of the person on your property. The two-way audio system lets homeowners interact with intruders on the grounds. This could be your shot to warn them to leave.
On fully charged batteries, the camera should deliver at least half a year's worth of recordings.
There's also an SD card slot within the wireless security camera. As a backup, all videos will remain on its cloud storage system for six months before you transfer them.
Aside from all the technical specs, this security system is quite simple to set up. The package comes with instructions for two different assembly styles. Whichever method you choose, you'll have your solar security camera installed in under five minutes!
Moreover, LC Lenercom has a track record for building durable IP cameras. This solar-powered system, for example, is IP65 certified for water resistance.
Best for Smartphone Compatibility: Ring Stick Up Solar Cam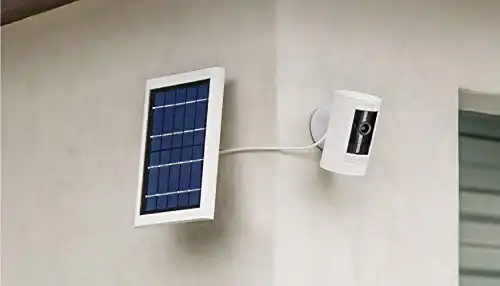 Ring Stick Up Solar Cam
Mobile phone/computer app
ALEXA voice controls
WiFi connectivity
High-definition video quality
Audio privacy settings
Adjustable motion sensor


Buy Now
The Ring Stick-Up is the perfect solar-powered security camera for homeowners away from home. From the Ring app, you'll never lose control over what goes on around your property. You need only connect its solar panel and set up its WiFi connection, and you're ready to go!
Its HD videos will help you recognize any face that sets foot in your yard, and you'll be able to talk to your visitors directly via its audio capabilities.
The app allows you to view, record, and share surveillance videos for up to 60 days.
If we're honest, surveillance can be an invasion of privacy at times. That's why Ring added audio privacy features to its security camera. You can choose not to listen in on every conversation around your house.
We love this app because it allows you to connect all Ring cameras to your smart device—the surveillance syncs with your laptop, phone, and tablet. To add to the convenience, it even works with ALEXA voice controls.
Customize your cameras' motion sensor settings, audio features, and security alarms all from your computer. You'll have full access to your home security from virtually anywhere.
Best Trail Camera: My Animal Command Solar Trail Camera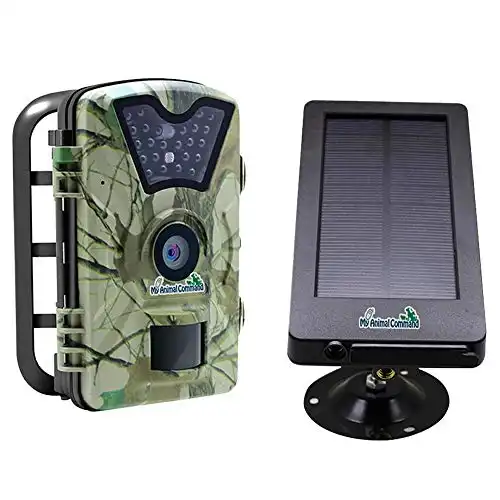 My Animal Command Solar Trail Camera
Camouflage surveillance camera
Long-lasting solar battery pack
1080p full HD
Automatic PIR night vision
Motion detection feature
SD card storage
Waterproof, dustproof, shock-resistant
Buy Now
A wireless, solar-powered security camera is ideal for hunters who want to keep an eye on their spot while they're away. My Animal Command understands that. It's why they created this camouflage security system for the woods.
The camera comes with a solar-powered battery pack that gives more than six months of outdoor footage. It works with a 1080p video lens and a motion sensor to capture images of trespassers and wild animals.
Even at night, you can count on its auto IR night vision to record movements in the dark. The pack contains an SD card slot where you can store your video memory.
Of course, it wouldn't be a trail camera if it couldn't withstand the elements. This model will hold up against harsh colds, heavy rainfall, and blazing heat. It's also shock-resistant and dustproof.
Meet a nature lover's best friend.
Easiest Installation: Heimvision HMD2 Wireless Rechargeable Security Camera
Heimvision offers a convenient solar-powered wireless security system that you can install within minutes. Its magnetic base will clip onto whatever surface you attach it to.
This is an easy-to-use camera with full WiFi connectivity. You'll be able to view high-definition videos straight from your smartphone on its mobile app.
When it gets dark, the camera automatically switches to infrared night vision. It will send you an alert of any object it detects within its 130-degree field of vision. You can talk back to anyone on the premises using its two-way audio feature.
All surveillance footage will remain on its cloud storage. Heimvision guarantees customer privacy by protecting all your videos with an HTTPS Certified Security system.
Because security cameras come in contact with harsh weather conditions, Heimvision had this model IP65 waterproof certified. Your home security camera won't fog up after a heavy shower of rain.
Best Battery: Conico Outdoor Security Camera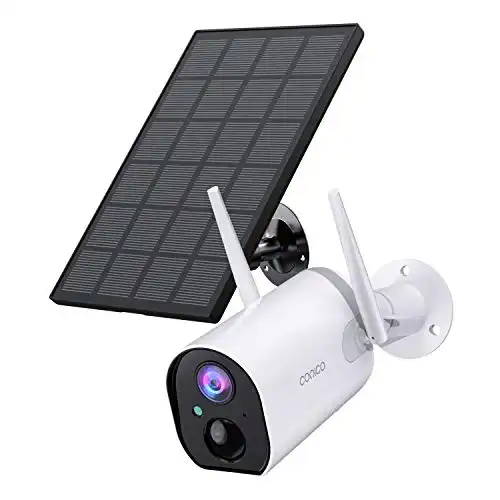 This wireless security camera from Conico is best for its powerful rechargeable battery, guaranteed to last you the long haul. Unlike many other wireless surveillance cameras, this package includes a solar panel that will power your device.
The IP65 certified system will provide HD quality and IR night vision images from up to 50 feet away in rain or sunshine. Its motion detection feature will send you notifications on your device as soon as it picks up any movement.
You can adjust your image sensor settings to ensure that you only receive alerts when a real threat approaches. Use its built-in microphone to interact with the intruder and ward them off your property.
The Conico Outdoor Security Camera is convenient because it syncs with both iOs and Android app devices. It even comes with antennas to improve its WiFi connection. The more stable the signal, the clearer the images you'll receive.
You'll be able to retrieve every inch of footage straight from the cloud. But you can always insert a micro SD card if you prefer.
Lastly, you'll be amazed at how easy this model is to install. The mount only requires a couple of screws and a few adjustments from your manual.
Best Value: ZUMIMALL Solar Powered Outdoor Security Camera
With this solar-powered security camera from ZUMIMALL, you'll get quality features at a reasonable price.
Its surveillance system works over an enhanced WiFi connection that saves all footage on the cloud. There's also an SD card slot included for double the backup.
As an upgrade from conventional solar security cameras, ZUMIMALL's design now has human-shaped PIR motion detection. That means you'll only get alerts when someone enters your property, filtering out false alarms caused by animals or cloud shadows. Plus, you can always adjust the image sensor to be more specific.
Its talk-back feature lets you speak to visitors on your doorstep without even being home. At night, the camera automatically turns on its infrared vision to detect people moving in the dark.
What's unique about this camera is that it enables multiple family members to access its videos simultaneously. If you don't hear the security alarm, there's a good chance that your loved one will.
To help boost its six-month battery life, the company made sure to waterproof its camera. You can expect footage even in the middle of a storm.
Solar Powered Security Camera Buying Guide
Accessibility
Security cameras are convenient. Yet, the best solar-powered systems are those that you can easily access away from home.
It's one thing to have a record of a break-in, but another if you can stop the burglar from entering. Keep an eye out for surveillance systems that offer you the option of live viewing.
Most cameras will pick up movement from over 30 feet afar. That buys you enough time to call the police or alert your family of possible theft.
If you notice, most of the cameras on our list have WiFi capabilities that allow you to track activities even while you're at work. They also have talk-back features that let you interact with people in your yard, on your porch, or near the garage.
Talking to an intruder can easily deter them from entering your house. They'll assume you're home if you can answer them.
Durability
Indoor security cameras take footage within your house. Likewise, outdoor cameras will record events in nature. If you're going to set up a security camera outside, you need to ensure that it can withstand the elements.
Snow, hail, and even heavy rainfall can damage your system if it lacks protection. These days, most companies strive to create cameras with durable plastic bodies. Your first pick should be waterproof and dust-resistant.
Some high-grade devices, like the My Animal Command Solar, also come with shockproof frames.
Ingress Protection (IP) ratings estimate how well your wireless security camera will hold amidst severe weather patterns. Generally, IP65 certifications are suitable for outdoor use.
However, if you live in low-lying areas (or areas prone to flooding), a higher IP camera rating would be better. Better safe than sorry.
Additional Features
Not all extra security camera features are useful. Some add value to the price tag but nothing to the experience.
We assessed all the possible additions and came up with a list of the most genuine features to consider in your purchase.
You should take advantage of the following:
Cloud Storage. While most solar-powered cameras come with an SD card slot, your portable memory could get lost. Cloud services provide the convenience of having all your footage protected across an encrypted network.
Built-in Microphones. Talk-back features help you interact with individuals on your property. Be it a family member, friend, courier man, or thief – they'll have your full attention.
Floodlights. These are excellent for illuminating your view during the night. But besides that, fog and haze can also darken the day. Their intense LEDs can help you steer clear of a break-in during bad weather.
Motion detection. Inanimate objects won't move on their own. Invest in a camera that lets you know the instant someone touches your land. Still, be sure to get a system with adjustable settings. Security cameras tend to alert owners even when animals run across their yards. That's unnecessary.
Starlight Night Vision. Starlight viewing allows you to see moving objects in the darkest of nights. Some security cameras come with specialized infrared vision that highlights people and animals as they run across. You may not be able to see their face, but you'll at least see them coming.
Image quality
Surveillance cameras often help police and homeowners identify the culprits of theft. It will help if you buy a camera that gives clear images and sharp videos.
They also need to be able to cover wide ranges of distance. An intruder could be coming from an area you least expect.
All cameras on our list offer 1080p full HD quality to provide clean shots of all activities near your house. Systems from brands like SOLIOM also offer cameras with up to 160 degrees of vision.
Installation
You'll obviously want to purchase a device that's easy to install. But it would be best if you also considered how convenient it might be to set up.
It's strategic to position your home security cameras somewhere that a burglar won't notice it. Thieves can be malicious and try to damage your surveillance on-site.
Some cameras are too easy to install and run the risk of getting stolen or vandalized. Inspect the attachments before making your purchase. Ensure that there aren't any loose-fitting sockets or plugs.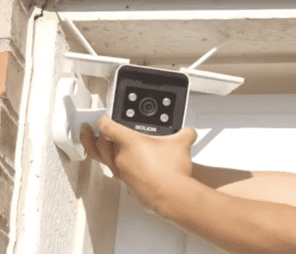 However, don't assume that your solar-powered security camera will come with a separate solar panel. Some models have the cells attached to their bodies. With an added panel, it can be tricky to find the right spot to mount your camera.
Remember, solar cameras work best in areas where they have direct access to sunlight. You may want to disguise your lens, but be careful not to shun the solar panels at the same time.
Price Point
Expensive doesn't always mean top quality. In most cases, you can get a valuable solar-powered wireless security camera for less than $100. Take the LC Lenercom or ZUMIMALL systems, for example.
Beware of pricey products that also lack important features. Are solar panels included in the package? Do you need to purchase the rechargeable batteries separately?
What size batteries does your camera need? You might want to consider getting a backup pack.
Are the ones included replaceable? Or will it cost you a fortune to get new ones in your hand?
Design
You know the way around your property better than anyone. Before selecting a solar security system, scope your yard and select a location or your device.
The best solar-powered security camera is one that fits right into your environment.
If you notice, some designs stick directly onto your wall or flat surfaces. Others secure around poles.
The camouflage cam from My Animal Command would sit perfectly along a tall tree. Plus, thanks to its colored pattern, it will blend perfectly with its surroundings.
Ergo, you should always consider the design and access to sunlight before buying a solar-powered camera.
FAQs
Are Solar Powered Security Cameras Worth It?
No doubt, there are a lot of cheap rip-offs on the market. But the right solar security camera systems come with added benefits.
Firstly, solar panels rely on sunlight to work, so there's no need to run electrical lines. You can easily install one of these cameras around your garden or construction site.
Not only are they wireless, but installing more than one solar surveillance camera can noticeably lower your power bill. How is that possible?
As long as there's light outside, your cameras will continue to charge and record whatever happens around the premises. Since solar energy doesn't come from your electric company, the system will work for hours without adding a dime to your bills. Talk about being cost-effective.
Besides, solar panels are becoming increasingly popular these days because of their energy efficiency. The industry continues to maintain a low carbon footprint from all solar devices, including security cameras.
While other forms of energy release toxic gases into the atmosphere, solar power remains one of the few to minimize its effects on the environment.
How Long Do Solar Battery Powered Security Cameras Last?
Wireless solar-powered cameras often come with rechargeable batteries. They'll provide your device with power as long as your panels stay standing.
Generally, companies predict a 25-year warranty on their solar cells. In other words, their security camera systems should last a quarter of a century.
Even after they pass their warranty, many surveillance cameras have an 80% output.
The chances of your purchase lasting into the long term are even higher if they're a set of IP cameras. The more protection you have against natural forces, the less likely you are to face any damages.
Taking this into account, it seems like solar power is here to stay.
What Is The Best Outdoor Solar Powered Security Camera To Buy?
The best solar security camera depends on your needs and preferences. While the SOLIOM Wireless Camera is our top pick, that doesn't mean it's the best fit for you.
If you're a fan of the outdoors, you should invest in something camouflaged and nature-centered. However, if you're more of a tech lover, you could opt for a sleek camera like the Reolink Argus 2.
A good rule of thumb is to double-check your camera's WiFi capabilities. It's easy to assume that they all connect over an internet network. That may not always be the case.
People who live in areas that get dark early should consider getting a solar security camera with floodlights and infrared night vision.
Likewise, if you don't get many sun hours, your system won't charge as often as others. Batteries only power up when they get light exposure. In that regard, ensure your camera has rechargeable batteries that can store power for darker, less sunny days.
You Might Also Like: Best Solar Powered Mosquito and Bug Zappers
How Does A Solar Powered Security Camera Work?
These security systems contain solar panels that trap light energy from the sun. The inner cells convert that energy to a direct current (DC) which powers their rechargeable battery.
Most devices, however, operate under an alternating current (AC). That's because AC is often more efficient for powering energy systems.
Hence, for your security system to work, a power inverter must change that steady electric charge to a reverting (or alternating) one.
Naturally, the charging power decreases on cloudy days since sunlight is low. But that doesn't mean your panels aren't receiving light.
When night falls, the rechargeable batteries still contain energy from the solar-powered cells. Though there's no sunlight, they'll have a reservoir of electricity to use from the daytime.
The batteries convert that charge to keep your camera firing in the dark and to activate its infrared vision.
Common Troubleshooting Steps for Solar Security Cameras
If you're having trouble with your cameras, don't be so quick to blame nature. It's more than likely something else. Make sure you;
Clean the panels. While your camera may be dustproof, you'll still need to monitor your solar cells. Sunlight can't penetrate past dirt and debris. It would be practical to schedule regular cleanings every six months.
Protect the batteries. It's a good idea to keep the batteries in a cool, dry place while your panel charges outside. High temperatures may power your cells, but they can do the opposite to your storage house. You don't want to risk bursting your rechargeables.
Position properly. Placing the panels in a sun-exposed location will help activate them. But you'll also need to angle those cells toward the light.
Plan wisely. If you live in Minnesota, Wisconsin, or Seattle, you may not get enough sun hours to power a solar device. Don't expect a WiFi-operated camera to work for you without a connection.
Think ahead. Install your solar panel away from human reach. South-facing rooftops will keep them safe and directly under the line of the sun. You should also consider including your solar-powered security camera under your insurance policy. You can never be too careful.
Final Thoughts
Environmentally-friendly technology is the face of our future. It may take some time to adjust, but natural resources are here to help us – not hurt us.
The best place to start is with good, old-fashioned solar power. With the rising fame of remote living and outdoor excursions, a solar security system might be the right choice for you.
It's hard to come up with a reason not to try it out. Solar security cameras are low maintenance and set up in under five minutes.
Well, there you have it. We set all the terms out in the open. The choice is now yours. You could opt to take a cleaner, more sustainable route for home surveillance.
Or, you could keep adding to those electric bills.
Either way, conventional security cameras are no longer the mainstream trend.