In our modern, high-tech world, there's nothing worse than being suddenly and unavoidably without power. Yep, as in, total power blackout: imagine a flash storm that takes out your power for almost a week.
But how do you prepare for your next ice storm or hurricane? Get a backup battery power station, like the Generark Solar Generator.
This neat power station will ensure you have enough emergency power to power your household electrical appliances for an entire week. What's more, this kit comes with portable solar panels for the ultimate charging experience, meaning you can harness the energy from the sun to charge your battery unit for free. You'll never be caught out by a power outage again!
In our Generark HomePower One Solar Generator review we'll go through the features, specifications, pros, and cons of this unit, so you can compare it to other solar generators available on the market and make a really informed buying decision.
We'll also cover how exactly a solar generator works, and guide you through exactly how to use the Generark Solar Generator (hint: it's really easy!).
Generark Solar Panel Power Generator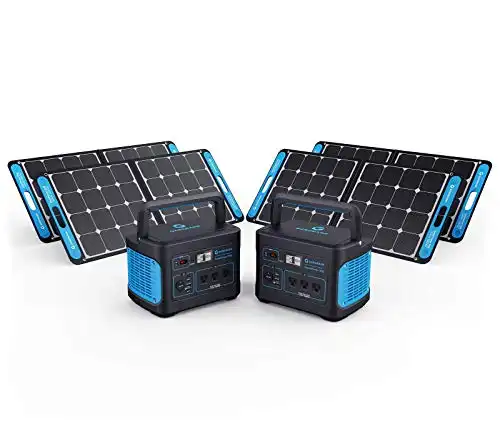 The Generark Solar Generator is a fantastic option for households looking for a cost-effective, eco-friendly, and portable generator that still packs a punch and can hold a lot of emergency power for use in a lengthy power outage, or during trips away from mains electricity.
This product contains both the Generark HomePower ONE and SolarPower ONE (the battery unit and the compatible all-weather solar panels). The two units can be used together for the ultimate solar-powered generator.
It's designed to be used in just about any household and is therefore compatible with a wide range of essential devices, as well as being super user-friendly. Let's see what features this generator has to offer!
Features
Seeing as the Generark Solar Generator comes with two individual units – the power station, and the additional solar panel – it's helpful to go through the key features of each unit separately, although they come as a whole kit and are totally compatible.
The Generark HomePower ONE generator is the unit that provides emergency backup power. Once fully charged, this unit can last for up to seven days powering crucial household devices on one single charge: that's right, up to a whole week!
This includes smartphones, laptops, fridge freezers, lights, and other home appliances. It's worth noting that it has a capacity of 1,002 kWh, which means very high wattage devices won't work with this generator.
You can find the full list of devices the Generark HomePower One is compatible with on Generark's website.
For full compatibility, this unit includes 3 AC outlets that use a pure sine wave, which results in an even power voltage supply (so there are no sudden electricity spikes). It also has 4 USB ports, including one surge power socket for super-quick device charging if needed.
Suggested Reading: Solar Generator Buying Guide (And Our Top Picks)
A really handy affordance of this generator is the ability to charge multiple devices at once. In households, arguments over who gets to charge their devices are incredibly common.
This feature helps to keep the kids amicable, and what's more, you can use kitchen appliances whilst your devices charge. Great for a tension-free home (or even camping trip)!
Although this unit can be fully powered by the provided solar panel, a key feature is the option to also charge it via AC power in your house or to charge it through your car. This can be useful when the sun isn't shining, or during a storm. It uses vehicle-grade battery cells, which means that it's fully compatible with power from your car.
Once your backup generator is fully charged, it will hold its battery for up to one year! So, if you have an annual charge-up, you can rest assured that you'll be equipped with enough power to deal with power outages throughout the year. You can also re-charge this unit while you're using it, so you never have to go without power.
When it comes to safety considerations, the Generark Solar Generator has some pretty nifty safety systems built into its power unit. There's an in-built industry-leading battery management system, which includes overcharge protection, short circuit protection, over-discharge protection, over-current protection, voltage protection, and temperature control.
Other nifty features of the Generark Solar Generator include a handy LCD display which lets you know how much power outage is being used (in wattage), as well as the remaining battery capacity. Generark also has a useful usage time estimator on its website. It's also pretty portable, as it has a comfy, padded foldable handle which is useful for carrying it around.
The other part of the Generark Solar Generator Kit is the SolarPower ONE solar panel. Although you can buy the two parts separately, this solar panel is a great addition to the Generark Solar Generator as it enables a free, eco-friendly, and readily available power supply for your generator.
This unit is powered by monocrystalline solar cells, which, in simple terms, means that it offers a 50% greater energy conversion than traditional solar panels, which is great. The panel can also be used to quickly charge a small electronic device such as a mobile phone directly from the panels, as it emits 100W of direct voltage.
This panel can bring the Generark Solar battery unit up to full charge in 8-hours, providing it is placed in direct sunlight. The panel is also really portable and comes with a kick-stand, which allows it to be angled for optimal sun absorption, and can be set up in less than 30 seconds (trust us, we tested it)!
Specifications
Key specifications for the Generark Solar Generator include:
Wattage: 2000W surge power and 1000W rated power
Capacity: 278,400mAh (1,002Wh)
Weight: 23lbs
Dimensions: L 12.07" X W 9.15" X H 9.57"
Battery type: Lithium-ion
2 USB-A ports, 2 USB-C ports, 3 AC outlets, 1 car outlet
Uses pure sine wave power
Recharges via AC outlet, solar, or car outlet
5-Year warranty
Voltage protection, short circuit protection, and temperature protection dimensions
And key specifications for the SolarPower ONE solar panel include:
Power Output: 100W (1 panel) or 200W (2 panels)
Folded dimensions: L 24"X W 21"X H 1.38"
Unfolded dimensions: L 48" X W 21" X H 0.2"
Has 50% higher efficiency than other solar energy panels
Powered by SunPower Maxeon Gen III Solar Cells
30-second set up using the kickstand
One USB-A and one USB-C port to directly charge mobile devices
It's also worth noting that the overall RRP for the Generark Solar Generator is under $2000, making it a competitive performer in the middle to upper solar generator price range.
How To Use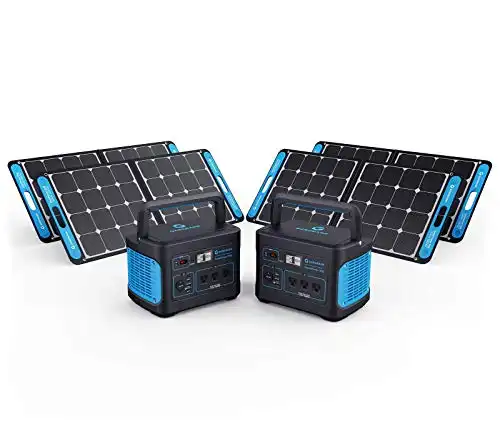 Despite the fantastic features and slightly complicated technical specifications, this solar generator is in fact really straightforward to use. It will have you set up with backup power for your crucial devices within minutes, should your power fail, and it is really easy to charge up too. When you need to use it, here's what you need to do:
Before using the generator on a trip, or when your power fails, you need to make sure it's fully charged. Preparation is key! Should you have any severe weather warnings, it's a good time to ensure the battery is full.
To charge the unit, you have three options: to use the solar attachment provided, plug it into your mains power, or charge it through your car.
We would recommend, wherever possible, using the solar attachment: it's eco-friendly and totally free! To use the panels, carry them along with the generator to a sunny, non-shady outdoor space. Use the kickstand to stand the panels on the ground. Then, attach the generator to the panels with the provided cord.
Leave them there for around 8 hours to get a full charge: it might take slightly longer on a less sunny day!
Once your generator is fully charged, you can take it back into the house and start using it (or place it in storage until it's needed).
To use the generator with your electronic devices, simply plug them directly into the unit via the AC outlets or USB ports. They'll have power instantly!
The LED screen will let you know how much wattage is currently being used (the max is 1000wH), and how much charge your backup power generator has left.
The Final Verdict
Pros
A single full charge provides power for 7 days
Stores power for up to one year so you're ready for any situation
Has three different charging options to cover you in all circumstances
Harnesses free electricity from the sun
Utilizes eco-friendly alternative energy
Can use the unit whilst it is charging, meaning you'll never be without power
Reasonably portable: the unit comes with a fold-up handle, plastic casing, and the solar panel folds away
30-second charging set-up
Highly compatible with a variety of devices due to the different power outlets available on the unit
50% more solar efficient than other solar generators
Comes with a 5-year warranty
6 protection modules and 100% safe for indoor use for ultimate peace of mind
Works up to 1000W which is compatible with most household devices
Cons
The battery can get very hot when charging
The unit is quite heavy (23 lbs) so not ideal for those who are on the move a lot, or for very mobile situations
Some household devices are too high wattage to be compatible: for example, common electric heaters might be incompatible as they are often 1800W
FAQs
What Does a Solar Generator Do?
A solar generator is a battery power station that works alongside solar paneling in order to provide essential power back-up to a home when the mains electricity is out or to charge devices whilst on the go and away from AC electric supply.
In scientific terms, solar generators work to convert heat and energy conducted from the sun into DC electricity. This type of electricity passes through the charge controller (a key component of a solar generator) and converted to chemical energy for storage in the battery. When you want to use that power for your home appliance, the inverter will turn it into usable AC power.
The key difference between a solar generator and an ordinary generator is that they are usually portable systems that use large panels to conduct energy from the sun, rather than charging the unit from the mains electricity. The generator uses solar panels and photovoltaic energy to harness the heat from the sun and turn it into usable emergency power.
It can be useful to see a step-by-step breakdown of how a solar generator provides power:
The solar panels convert sunlight into DC (direct current) energy
This is then passed through the charge controller: this component regulates the voltage of the energy, so it can be stored in the battery for later use
When you plug a device into the generator, the inverter will convert the DC energy stored in the battery into alternating current energy (AC), which is what most household appliances and devices use and run on. This is what makes the generator compatible with everything in your household!
For these reasons, solar generators are lifesavers during black-out situations, as they're not reliant on mains power for charging, and can provide power to almost all household devices (including medical devices) easily and efficiently. They're also super cheap to run, eco-friendly, and last a long time, which is a win-win.
Are Solar Generators Worth My Money?
Backup generators offer a fantastic emergency power backup for the house, as well as the option of having portable power for outdoor situations such as road trips or camping holidays.
Significantly, however, solar generators provide a way of harnessing free, eco-friendly energy from the sun to power your unit, which is why they're so great.
Solar paneling has a long lifespan or around 25-30 years, so you can save a lot of money on energy over time. They're not cheap, but they are a great investment for those who want the peace of mind of a backup power unit or regularly need portable power and want to harness eco-friendly, sustainable, and cheap energy.
What Is The Most Powerful Solar Generator?
One of the most powerful solar generators on the market is the Generark Solar Generator. This model is the ultimate machine for those who want to be prepared for disasters: it has a very high energy capacity of 1,000 Wh and has almost double the battery storage of other similarly priced units.
When considering technical specifications, this generator is one of the biggest and most powerful.
What Is The Best Solar Generator For My Home?
The best solar generator for your home will depend on what you plan on using it for most often.
For example, if you want a solar generator to provide power whilst out and about, you might want to opt for a smaller, more portable option such as the Renogy Phoenix 200, which is very lightweight and compact so is great for active situations. It can only charge low-power devices, however, such as phones and laptops, so isn't good as a home generator.
However, if you're looking for a great overall generator, which could be used to power your home and retains some portability, we really would recommend the Generark Solar Generator. It's portable AND powerful, so offers a great middle-ground for most households.
When Would I Need A Backup Battery Power Station?
The main reason why most households keep a backup battery power station is in case of power blackouts, caused by things such as freak weather so that you always have access to emergency electricity for your home.
You may also want to take a backup generator with you on trips where you won't be near mains electricity for long periods of time, such as on camping, boating, or campervan trips. Portable solar generators can be really useful in these situations.