Have you been thinking of buying the Goal Zero Yeti 150 Solar Generator? Not sure if it's right for you? If so, we're here to tell you that if you're going camping and you need your phone or another device with you, the Yeti 150 is for you!
But what is it and how does it work? If you're new to using generators you may be a bit unsure if it's the right one to buy. Or maybe you've been using another generator but you're on the hunt for an upgrade?
In this Goal Zero Yeti 150 solar generator review, you'll find everything you need to know about this product. We'll take a look at its key features and its pros and cons.
But how does this power station perform? We've answered that as well! We've gone through all the aspects of its performance including its features, portability, and ease of use. Want to know more? Be sure to check out our review below for more information!
The Goal Zero Yeti 150 Review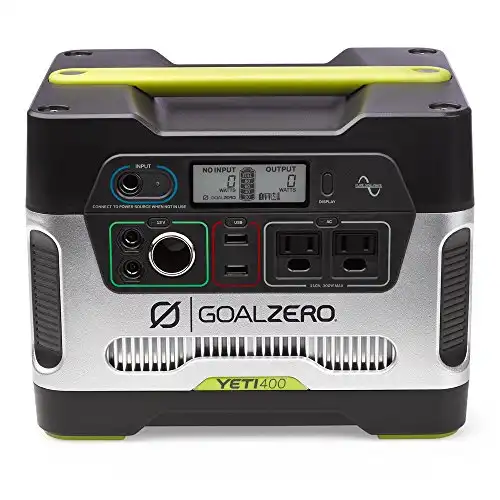 The Goal Zero Yeti 150 is from Goal Zero's range of portable power stations. These battery packs are designed to be carried with you to recharge various electronic devices; think cell phones, tablets, and laptops.
Perfect for people heading out on long camping trips, the fuel-free Yeti 150 is capable of providing essential energy for camping.
Not only that, but this small but mighty plug-and-play powerhouse gives you the power to keep your house lights and devices charged up if there's a power outage.
You can recharge in one of three ways. The first is by taking advantage of sunny days and charging it outside. This usually takes around 12 hours with a compatible solar panel.
The second method is from a wall plug and this usually takes 6 hours. Lastly, if you have a 12v DC car charger you can use that, which typically takes 8 hours.
Key features:
Small, lightweight design: The Yeti 150 lead-acid battery pack only has a unit weight of around 12 pounds, with a storage capacity that's perfect for charging small devices such as cell phones and tablets.
Multiple charging options: The Goal Zero Yeti 150 portable power bank offers three convenient charging methods, making it suitable for home, outdoor, or camping usage.
Fully portable: The pop-up handle and the lightweight build means you can carry it anywhere.
Powerful capacity: Offers 15 recharges for smartphones, 6 for tablets, and 2 for laptops.
Features 2 USB ports: Can easily charge devices, including phones and MP3 players.
Front display panel: The panel gives you information about incoming and outgoing power usage and it tells you the battery status in increments of 20%. This feedback allows for accurate power management.
Goal Zero Yeti 150 Portable Power Station Pros and Cons
When making a new purchase, especially an expensive one, it's important to weigh up the pros and cons. This will allow you to make an objective decision and not simply go with the product that "looks" the best.
We've detailed the positives and negatives of the Yeti 150 so you can make an informed decision.
Pros:
Small, compact, and lightweight
Multiple charging methods
Five output ports
Straightforward to operate
Stylish for a generator!
Includes an AC inverter
Compatible with different solar panel brands
Easy to carry and convenient power pack option
Cons:
On the pricey side
Might be too heavy for long hikes
Performance
Next, we'll take a look at how the feature-rich Yeti 150 performs, from how long the battery lasts to its durability. A generator isn't exactly a cheap purchase so you need to make sure you're buying the right one.
Below, we've covered everything you need to know about the Yeti 150 and whether it's suitable for your power needs. Check out the sections below for more information!
Durability
This power station is housed in a sturdy and thick plastic case, which does very well at protecting it from severe weather. Serrated plastic protects the vertical edges which also gives it a modern, contemporary aesthetic.
The Yeti 150 is weatherproof, being able to endure dust and harsh sun. It doesn't have a water resistance rating so if you're going to a wet climate it may not be suitable. With that said, this unit can cope with small amounts of shocks, so don't worry if you accidentally drop it.
Battery
This Goal Zero power station is perfect for those wanting an environmentally friendly alternative to regular backup generators. It features a 168Wh lead-acid battery that's capable of charging devices from cell phones to tablets.
Because it has a deep cycle battery, it operates without making any noise and doesn't produce any exhaust. The battery is also removable so you can easily replace or upgrade it if you need to.
Compatibility
Although other 10Ah or 20Ah battery packs can provide a DC current at 5 volts, the Yeti 150 is capable of producing a DC of 12 volts, a 110V AC, and a 5 volt DC. This means that three sets of appliances are compatible with this power station.
You can use a standard wall plug to charge the 14Ah battery as well as using a solar panel. If you need to, you can use your car charger but it will take longer, but only by a couple of hours. The solar panel method is the slowest, and it'll also be dictated to by the weather.
Features
This feature-packed power station is perfect for anyone wanting to head into the great outdoors, go camping, or simply have a reliable backup at home. This small but comprehensive battery is built to keep cell phones, tablets and laptops juiced up and ready to go.
You can easily recharge it with a wall outlet and it also pairs nicely with the Goal Zero line of solar panels for a convenient charging method if you're on the move. Designed for charging small devices, the 168Wh lead-acid battery can recharge 5 devices at once!
You can use the USB port for recharging your smartphones and tablets, and the 80w modified-sine wave AC inverter is ideal for laptops and DSLR cameras. It can provide up to 15 recharges for many cell phones and up to 8 recharges for DSLR cameras. The Yeti 150 also has a usage temp of between 32° to 104° F.
The Yeti 150 is perfect for traveling as it's ideal for keeping in the backseat during outdoor trips so you always have it to hand. It's also safe for airline travel so you can take it with you on overseas vacations.
Design
Although looks may not be important for many people searching for a new battery unit, the Yeti 150 will definitely appeal to the design-conscious customer.
Straight away you can tell the construction is modern and durable. It features a combination of black and metallic gray, broken up with a lime green handle, feet, and a front label.
Two main designs make up the Yeti series and this unit belongs to the aesthetically pleasing and less boxy design. It's a smart and compact product, one that you won't mind being seen with while you're out and about.
Ease of Use
It may sound complicated to have five ports to get power from but Goal Zero has ensured that this unit is easy and simple to operate. Each port on this generator has a label and a border stating the voltage and current type, whether it's DC or AC.
Although charging can be carried out in 3 ways, the single input port simplifies it for you. The line of Goal Zero solar panels also has a single pin output, making it even easier. Using your car to charge the battery is also easy but you will need a special cable for it.
It's the perfect solution for any customer who wants a simple, no-nonsense battery pack to keep essential devices charged. It's also ideal for those who want to be prepared for emergencies such as power outages.
Portability
Weighing just 12 pounds, this charging unit is compact, lightweight, and easy to handle. Although it would have been lighter with a lithium-ion battery, this would have raised the price.
The dimensions are small enough so that it'll fit comfortably in the trunk or backseat of your car and even in your backpack, making it the ultimate portable power pack. If you need to pack light, the last thing you need is a heavy battery pack weighing you down for miles!
Portable power is frequently an essential need for many campers, so the Yeti 150 is the perfect solution for all of your recharging needs.
FAQs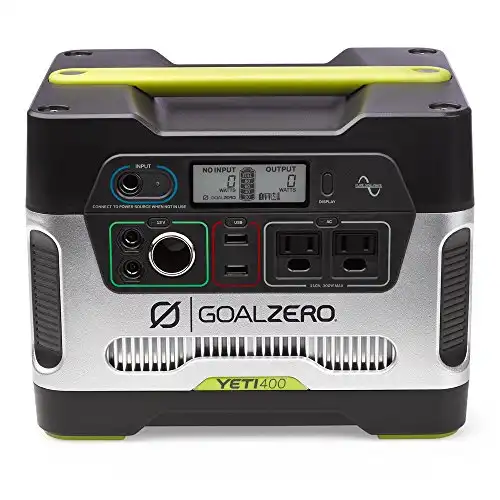 What Can The Yeti 150 Power?
The Yeti 150 has a 168Kh battery which means it was designed to charge smaller devices, such as cell phones, tablets, and smaller laptops. You can expect up to 15 recharges for your smartphones and 2 recharges for your small laptop.
It's not only the outdoors where this power pack comes in handy; keep it around your home in case of sudden power cuts. You can utilize it to keep the lights on if the power is down and keep your home functioning.
It's compatible with many device brands such as iPhone, Dell laptops, Samsung, and more. Keep in mind though that it's not compatible with Apple Macbooks.
What Is The Best Solar Generator On The Market?
It's always a good idea to have a power backup in life. Gas-powered generators are good but they're noisy, produce unpleasant fumes, and you would need a specific gasoline-safe storage area, making it a pretty inconvenient power option.
Unfortunately, they also cause climate change. For those who want to be more environmentally friendly, solar generators are the solution. They're easy to operate and don't need fossil fuels and as such, they're becoming more and more popular.
But which one should you buy? First, you'll need to roughly calculate how much power you think you'll need to run various appliances, such as phones, laptops, or even televisions should a power cut occur, or whatever devices you'll be taking with you on outdoor trips.
Once you've figured out how many watts you need, think about other features that you want in your new generator. Do you want USB charging ports? Rechargeable batteries? Avoid wasting money by choosing a generator with functions that make it practical rather than expensive.
What Solar Panels Are Compatible With The Goal Zero Yeti 150?
The Yeti 150 is quite versatile in that it's compatible with many different solar panels. The 150 is typically paired with the Boulder 50 solar panel.
Rugged, tough, and rigid, the Boulder 50 panel has been built with durable tempered glass and an aluminum frame, along with additional corner protection for either permanent or temporary installation.
Kitted out with a built-in kickstand that helps you to get the best angle for sun exposure, this panel works perfectly with the Yeti 150 to keep your devices charged wherever you are. When paired with the 150 it typically takes 5-10 hours to recharge.
How Long Does The Goal Zero Yeti 150 Last?
Goal Zero uses watt-hour (Wh) measurements to calculate the capacity of their products. A Watt Hour is a power measurement unit for a certain period of time, or in this case a measurement of power capacity.
One Watt Hour is equivalent to a single Watt of average power over the hour. To ensure your Yeti 150 lasts as long as possible there are things you can do to prolong its shelf life.
Keeping it dry and clean will stop it from deteriorating, and making sure it isn't knocked or dropped repeatedly will prevent it from breaking down.
The great thing about the 150 is that the battery is removable, so if it's starting to become a bit dated, you can upgrade it with a more efficient model.