Looking to make a splash this summer?
This article takes a close look at the best solar pool lights available today and what makes them so great!
Our team has tested a range of solar lights for color, durability, versatility, and price to bring you our top 10 picks across multiple different categories.
Read on for product reviews and a comprehensive buying guide.
Best Solar Pool Lights
Best Solar Pool Lights Reviews
Best Overall: Esuper Inflatable Floating Pool Lights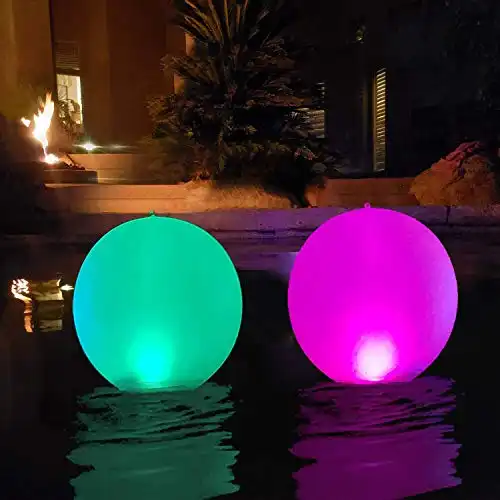 Solar lights don't have to be boring! In fact, it's better if they're not…
What if you could have colorful outdoor lights that float effortlessly on the water or bounce around playfully? Meet the Esuper floating lights, our best overall outdoor lights!
The Esuper floating lights are easy to inflate; you simply blow them up like a balloon! If you don't have enough puff, you can always use an inflator pump. There are no batteries needed for these lights. The bright LED lights are directly powered by the sun, saving you money and hassle charging them.
They are not only decorative, but they are also fun to play with and are ideal for a swimming pool party or some garden decoration. Esuper lighting systems are high-quality, multi-functional solar lights.
When you put out your solar floating light, the last thing you want is to haul them back in again a few days later because they've gone dead. Esuper floating lights are specially designed to capture and store solar energy efficiently. Following a full charge, Esuper lights last up to 8 hours!
They are durable and versatile, with diverse color options. They are also excellent for their price. Sure, other swimming pool lights have their advantages, but these solar lights win in terms of fun – which is where it counts!
Best For Budget: ESEYE Solar Lights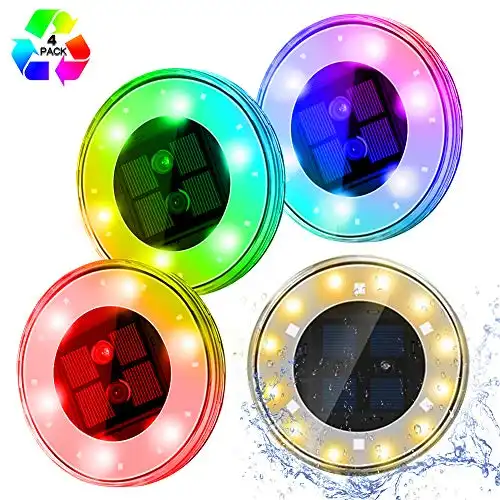 ESEYE Solar Lights
Product features:
Extra brightness
Impact-resistant
Highly durable
Help to light pathways
7 color modes
Automatic activation
Buy Now
If you don't want to break the bank on lights for your swimming pool, some excellent budget options might fit the bill. The ESEYE lights are made with the budget buyer in mind and are easy on the pocket. But that doesn't mean they don't deliver!
They are designed to outperform the competition at a cut-down price. So what can they offer?
For solar lights to work, they need daylight. But if you want them to work well, you also need a high-performing photovoltaic cell. This is why ESEYE lights use high-quality PV cells and larger 5050 LED bulbs for added brightness.
ESEYE solar lights might be small with soft light, but they are also durable, flexible, and budget-friendly.
ESEYE solar lights will happily float in your swimming pool or sit in your garden grass. They are super durable and won't be broken by children standing on them or strong weather.
Solar lights are meant to be eco-friendly, but they aren't very green if they only hold a small charge and need to be topped up by the mains. ESEYE lights use a large capacity battery (800 mAh), which can last for up to 12 hours following a full charge.
Functional, fun, and eco-friendly – you won't find a better buy this summer!
Best For Design: Blibly Swimming Pool Lights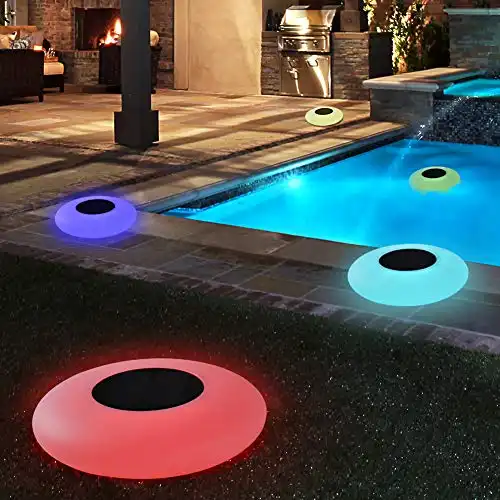 Blibly Swimming Pool Lights
Product features:
A high-efficiency battery
8 hours of use
16 RGB colorful light modes
A 13 ft remote control
Waterproof and dustproof
Light sensor
Buy Now
If you like the sound of the previous two products on the list, but you wish you could combine their features, Blibly swimming lights might be the answer!
Practical, versatile, eco-friendly, user-friendly, and remote-controlled – it's no wonder the Blibly swimming solar pool lights win when it comes to overall design.
These lights are colorful, attention-grabbing, and multi-purpose. They are equally at home on the water and by the side of the swimming pool.
The Blibly swimming lights offer poolside energy-efficient lighting for up to 8 hours following a single charge. This makes them superior to alternative LED floodlighting.
Everyone has different tastes; some like the fun factor of having multi-colored lights, while others prefer a more consistent lighting aesthetic. This is why the Blibly lights come with multiple light color options – no matter your style, there's something for you!
These are orb-shaped floating lights that can float in the water or sit around the poolside. Their 16 colors and multiple lighting modes make them super enjoyable at parties and an ideal mood-setter.
One stand-out feature is the remote control capability that lets you operate the lights from 13 feet away in any direction.
These floating pool lights can be used anywhere around the swimming pool, making them extremely versatile – their portability also means they can be moved into the sunlight during the day.
They are not only ideal for lighting your swimming pool at night for a colorful display, but due to their flexibility, these lights can also be used for garden events like weddings, decorations, and gatherings.
These really are a wonderfully versatile lighting solution for your pool!
Best For Features: Westinghouse Solar Pool LED Lights
Westinghouse Solar Pool LED Lights
Product features:
Polycrystalline solar panel
Bluetooth speaker
Water-resistant LED lights
USB charging port and micro USB cable
White light mode
Colorful lighting options
Buy Now
It isn't all about the look! Sometimes you want some eco-friendly outdoor lights with awesome features as well. That's where the Westinghouse solar panel pool lights come in…
Not only do they provide a water-resistant LED light, but they also double as a powerful Bluetooth speaker!
Whether it's a solar panel pool light show or a formal event with guests, you can create an atmosphere perfectly suited to the occasion with the Bluetooth capabilities of this LED wireless speaker.
Enjoy music from your pool lights as you swim or an audiobook as you relax on a sunny day! You can let the super-efficient solar panel charge as you chill or boost the power of the lights further with their USB charging port and micro USB cable.
This product also provides a variety of color lighting modes and themes to create a light show that keeps things interesting!
Best For Pool Parties: Cootway Solar Powered Pool Lights
Summer is for two things: BBQs and solar light pool parties – preferably together!
Unfortunately, a pool tends to look a bit unimaginative at a party if you don't have some colorful lights to jazz it up. That's why we've chosen the Cootway solar powered lights as the top choice for solar pool parties.
The Cootway solar powered lights use a high-quality solar cell to absorb daylight and glow various colors all through the evening and into the night. They are star-shaped to add some extra interest to your pool during a light show party.
If you worry about your LED lights getting damaged at the solar pool party, fear not! These fancy star-shaped LED solar devices are waterproof and made from durable PVC plastic that can withstand all types of weather.
Best For Large Pools: Intex 28695E Floating LED Pool Lights
The Intex 28695E Floating LED Pool Lights are a simple option that promises great performance without any hassle.
The auto-on-off and built-in rechargeable batteries mean you can pretty much just leave these to take care of themselves.
When fully charged, you get up to 5 hours of lighting, and there are two lighting modes. Select either the soft, colored lights to create your own ambiance or go for the bright white LED light that can illuminate your full pool.
These lights will really surprise you with how impressively they can illuminate a pool. Anything over a 15k gallon pool may require 2 to get the full illumination you are looking for.
Finding adequate lighting for larger pools can be difficult; you don't want to overdo things by having too many lights floating around. On the other hand, you don't want dark patches through your pool, especially if you are entertaining.
The Intex 28695E Floating LED Pool Lights provides 2 great options, whether you want to light up the pool or set the mood with the ambient color options.
Best For Color Options: HAPIKAY Solar Floating Pool Lights
HAPIKAY Solar Floating Pool Lights
Product features:
Auto color change every 25 seconds.
Light colors; white, pink, red, purple, blue, aqua, green, lime, white
Solar-powered rechargeable batteries
Durable
IP68 Waterproof
Multifunctional; inflatable, hangable, floatable
Buy Now
Though these may be a bit more expensive than other choices we have selected, the one-year guarantee gives you a bit of extra peace of mind. You will also be impressed with the results when you set the mood with your new colored lights.
The HAPIKAY rechargeable, solar powered lights are ideal for people to light their pool in the summer in an eco-friendly way.
The LED RBG ball lights have an auto change feature that means the color will change every 25 seconds. With a great variety of colors, it will really add to the atmosphere, and you won't even have to worry about changing the colors yourself.
They are the ideal addition to any pool party, and at 14 inches in size, they are big enough to light up the full pool. They really are a fun and colorful way to liven up a party.
Just leave them to charge during the day, and they will automatically illuminate your pool as the sun goes down. They take around 6-8hours to fully charge.
These are a great option, and because they are made to be durable with an IP68 waterproof rating, they are perfect for the pool or to take advantage of the loop on top and string up around the pool.
Best For Efficiency: DeeprBlu Solar Pool Lights
Sometimes, it isn't the look of the lights or their durability you're interested in – it's how long they can last!
The last thing you want is for your outdoor lights to dim and disappear when the party is still going – it puts a downer on things and often signals the end of the night.
Make your pool parties last until you're ready to pack up with a high-efficiency floating solar pool light.
These solar power lights are specially designed for pool parties. They offer excellent lighting options and benefit from a 600mAh battery that lasts up to 8 hours on a full charge.
Efficiency might be the top priority of DeeprBlu solar power pool illuminations. Still, it isn't the only consideration the design team has made.
Suppose your previous solar powered pool lights sank to the bottom of your pool or were damaged in extreme weather; get on board with DeeprBlu instead. Their lights are waterproof and unsinkable!
Solar powered party pool lights also need to be multi-purpose…
Although they are primarily designed for the water, you might also need them for the poolside. You might want floating solar lights or ones hanging from trees. This is why DeeprBlu lights give you plenty of options for hanging and tilting the lights in different areas of the poolside.
Best For Atmosphere: DeeprBlu Flickering Solar Lights
DeeprBlu Flickering Solar Lights
Product features:
Energy-saving system
Beautiful flame effect
Solar floating pool lights
Multiple modes
Decorative lighting
Practical lighting
Waterproof
Durable ABS material
Buy Now
If "atmosphere" is what you're after, look no further than the DeeprBlu flickering solar lights that work well in baths, pools, and camping trips. Unlike other solar powered pool lights, DeeprBlu flickering lights give off a warm organic glow and move around like fire.
They are convenient and eco-friendly. There are no batteries required, so you don't contribute to unnecessary battery production or disposal. Simply expose your lights to sunlight during the day and enjoy them after dark on a summer evening.
They are perfect for creating an inviting atmosphere! The flickering flame effect of these lights is interesting and inviting, but it isn't the only setting you have. The DeeprBlu flickering solar lights also have two additional lighting modes.
The lighting modes can create a warm glow, flashing, or steady white light. These modes can be easily changed without fiddling with lots of buttons, making them pleasing and practical.
Best Eco Friendly: BeTIM Solar Floating Pool Lights
If you had been considering buying new pool lights, you might want to consider this fun, eco-friendly option. The BeTIM solar floating pool lights are a great decorative light that can help to combat energy consumption and help you avoid overheating problems.
You can leave these great lights on, and they will automatically start charging when the sun rises. In addition to this, they know when night falls and will automatically start to illuminate your pool.
A great design feature is a hole on top that allows you to join them together to float in the water. Alternatively, they look great hanging from trees or around your patio area – a great option for BBQs or when the pool cover is on.
Designed to be durable and for outdoor use, the BeTIM solar floating pool lights are designed to be weatherproof and waterproof. Coming in seven different colors, they are a great way to brighten up your pool area!
Best Solar Pool Lights Buying Guide
Weatherproof
The last thing you want is for your new solar pool light to fail because it has been damaged by rain or sink to the bottom due to leaking.
This was common in older versions of solar lights, but modern solar powered floating solar light devices are built to last.
Most solar powered pool lights on today's market will be waterproof and weatherproof, so you shouldn't need to look too hard for those with these features. Still, it's worth checking for them to ensure longevity.
If you take this feature for granted, you might end up with poor investment.
Today's solar lights can usually be left out all winter, although this is not recommended, especially with more decorative solar lights. Protect your investment from the start by checking the product's weatherproofing.
Price
As with most lighting options, solar lights have a range of prices.
You will find the best quality product with the best features at the higher end, but those aren't always the most affordable (or even the best). Most people opt for solar lights at a mid-range price that strikes a balance between quality and affordability.
When shopping for solar lights, decide on your budget. On the lower end of the price scale, you will find solar light products that are simply sub-standard. They might offer some appealing features at an excellent price, but you can't expect them to last very long.
It's best to pay a little more for your lights to get the features you want along with a product guarantee.
Colors
When it comes to colors for your solar floating light, you're spoiled for choice!
The reality is that most swimming pool lights are produced with color in mind. These lights tend to come on at dusk and after dark. They are also multi-purpose and are used for various occasions, so they need to be versatile.
This is great news if you're a color-oriented person or want to choose between flashy party lights and more conservative accent lights. That said, some solar power pool lights have more color options than others.
Some also offer different styles and atmospheres, such as a flame effect!
First, consider what you will use the LED pool lights for. Will you use them for pool parties and special events like BBQs or weddings? If so, you want as many options as possible!
You want some flexibility on your solar devices to change the mood of the party easily. Otherwise, choose a product with fewer lighting options and save on price.
Durability
Will the solar pool light you buy last long enough to be used again next season, or will they freeze, crack and sink?
Of course, there are other ways you might lose your lights as well. For example, they could be damaged by the rain, high winds, or people using the pool.
That's why it's worth considering the durability of your solar lights before making a purchase.
Normally a higher price indicates better quality materials and better longevity. But this is not always true! Look for durability features such as ABS plastic and lights with heavy-duty components made to last.
Solar lights usually come with some information on weatherproofing and waterproofing. Look carefully at this information to find out what materials they are using. Are the lights impact-proof as well, or weighted to prevent them from disappearing in high winds?
Quality
The quality of solar lights refers to the standard of the overall product.
This includes the materials used to make it, the parts, the functionality, the features, and the affordability. Unfortunately, although you can find much of this information on product reviews, you don't get a true idea of the product's quality.
If you want some insight into the product's real-world quality, you should look at some consumer reviews. Today, consumer reviews are one of the main ways buyers make decisions on product quality.
Moreover, it's a handy word-of-mouth resource for practical insights into product quality. However, it's important not to settle on the first review.
Remember, you will probably have some confirmation bias, especially if you already like the look and design of the product. Try to put your bias to one side when reading positive and negative product reviews.
Installation
The last thing you want is a new set of solar lights that aren't easy to install.
You might find they are difficult to assemble or have clips or mounting that don't complement your poolside features. You might have to send the product back, costing you time and money. Worst still, you can't get them installed.
In reality, most solar light sets come with instructions and easy-to-install features, making them easy to use right away. Still, it pays to do some research into the installation procedure to double-check the lights will be the right fit for your poolside.
To check for installation procedures, read the product description and look online.
Suppose you can't find anything about how the lights are assembled and deployed. In that case, you can always send an email to the manufacturer or seller asking for more information. It pays off in the long run!
Versatility
Pool lights can be set up on your decking or suspended from trees to create decorative light for special events. This is good news for those looking for a shrewd eco-friendly investment.
True, solar lights are ideal for floating in the water at night, but decorative light isn't their only purpose. Lights are for illuminating pathways and walkways as well!
Solar pool lights often have this functionality as well. In addition, you can use your solar lights on the ground or in the trees.
Solar lights are designed to be energy-efficient and eco-friendly, so why pay extra for electricity when you can double your pool lights as outside lighting?
FAQs
How Do Solar Pool Lights Work?
To provide an interesting example, you could say that solar lights work somewhat like satellites… No, really! Satellites orbit the earth and store energy from the sun in their battery while in the sun.
When it's dark, the satellite then uses this stored energy for power.
Solar lights do this, too – though admittedly on a far smaller scale. Each solar light has a photovoltaic cell on the top that contains chemicals and semiconductors to turn the sun's radiation into electrical energy.
The electrical energy gathered through the day is transported to a battery in the product, where it is stored until the light-sensitive diode detects that it's night. The energy in the battery is then used to power the pool lights.
What Are The Advantages of Solar Powered Pool Lights?
Solar powered pool lights have some compelling advantages and few drawbacks.
First, solar power is the future because it harnesses the sun's free energy, reducing energy bills and helping the planet purge its atmosphere of greenhouse gases.
Solar lights are extremely eco-friendly. They save you money with their progressive technology, but that's just for starters…
Solar lights bring a new dimension of decoration and versatility to swimming pools and come with a range of diverse features.
Although they are called pool lights, these products can be used on pathways and walkways. Because they don't require mains charging, battery replacement, or pesky wires, you can essentially 'set them and forget them.'
Some solar light products can also be hung from trees for event decoration. You never again have to use your mains to power your outdoor spaces with pool solar lights!
How Long Should Solar Pool Lights Last?
Solar pool lights can differ massively in terms of battery capacity and output.
You have products that produce 5-6 hours of bright light for an 8-10 hour charge with LED lights on the lower end. Higher capacity batteries give you 8-10 hours of light for an 8-hour charge.
The quality and capacity of the battery will largely determine the lifespan of a solar light.
As with batteries of any kind, solar pool light batteries eventually lose their effectiveness and need to be replaced. However, you can expect a typical solar pool light battery to last for 600 charges, around 2 years of usage.
It's a good idea to research the battery capacity of your solar powered lights before making a purchase. This will help you gain an idea of the product's quality and longevity.
You will then have a better idea of the product's suitability and price point.
What Is The Brightest Solar Light You Can Buy?
While floating pool lights have various features to bring swimming pools to life, they may not always be the brightest option.
Floating solar pool lights are often designed for decoration and minimal lighting, so you can't rely on them for dynamic lighting at late-night parties. You might need something a bit stronger!
The good news is that stronger solar pool lighting for your outdoor spaces is also available!
You will find extremely bright solar lights on the market – ones that use 200 lumens and last up to 8 hours on a single charge.
In addition to pool solar lights, these are worth considering if you intend to run events in outdoor spaces or swimming pools.
Final Thoughts
Solar powered pool lights are available in different sizes, shapes, and designs.
Some are designed like inflatable pool lights; they bounce around on the pool's surface and are ideal for parties. Others are more conservative; they are subtle orb shapes that float effortlessly on swimming pools or lay around the poolside like glowing UFOs.
There are many excellent reasons to opt for solar swimming pool lights for your garden.
Firstly, you are using innovative technology to illuminate your garden for no charge. The only cost you have is the initial purchase price; there are zero running costs after that.
Depending on your taste and style, you can have solar pool lights that are perfect for a soft glow around ground pools or ones that complement your outdoor spaces on those balmy summer evenings.
They are a fun option that the whole family will love, and, on top of that, you will be making an environmentally friendly choice by having solar powered, rechargeable pool lights. If you want to reduce your carbon footprint, save a bit of money and have a fun swimming pool, there really isn't another choice.
Most solar pool lights are extremely versatile – so no matter your tastes or needs, there's never been a better time to go solar!