Many of us will be spending the summer holidays at home this year, and many more of us will be opting for a wholesome camping trip.
Whether you're a first-timer or an experienced explorer, we live in a world where camping doesn't mean going off the grid for four days. The kids need their phones charged at all times to chat to their friends, Dad needs his Radio 2, and Mom needs her laptop to share it all on Facebook.
Camping or not, I thought a portable power station could be useful in this uncertain time. After trying a few other solar powered generators on the market, I thought I'd give the Yeti 400 Solar generator a try.
Check out my my Yeti 400 Solar Powered Generator review to see if it's the right power station for you.
Yeti 400 Solar Generator Review (2023 Update)
This generator is a portable power station that can be used to charge most devices, including laptops, tablets, smartphones, lights, and even your mini-fridge.
The Goal Zero Yeti 400 uses a lead-acid battery and comes with various electronic ports, making it fairly versatile. It can charge many devices using the following:
1 x 12-volt port
2 x USB ports
2 x 110-volt AC outlets
Pure Sine-wave inverter
It also has a convenient LCD screen that displays all the information you require, so you should never be caught without juice at short notice. Although the Yeti 400 is on the heavy side, coming in at 29 lbs, it's a useful power source for those who enjoy camping or if you're living off the grid.
This generator stands out for its pretty affordable price and its lack of noise. Many portable power stations come with loud cooling fans, but the Goal Zero Yeti 400 is virtually silent. Plus you can charge the battery with an eco-friendly solar panel kit.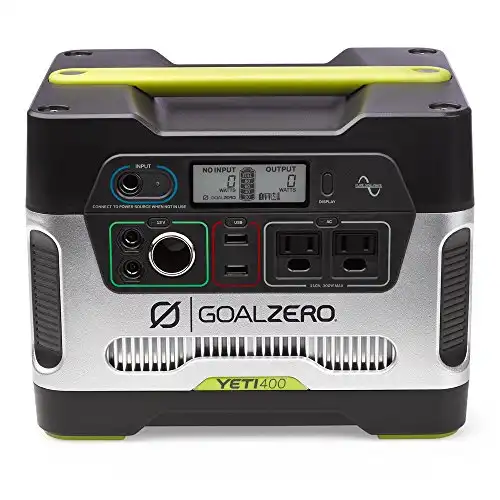 Pros:
Pure sine wave inverter
LCD Screen displays remaining battery life
Eco-friendly portable solar panel charging
Can operate at fairly high temperatures
Basically silent
Cons:
It's a bit on the heavy side (29lbs)
Short 6-month warranty
Limited range of accessories included
Expensive for what you get
Battery display can be vague
Buyer's Guide
The Yeti 400 is a great power station for weekend campers with basic camping needs. There are many pros that make it an easy choice for first-time power station users.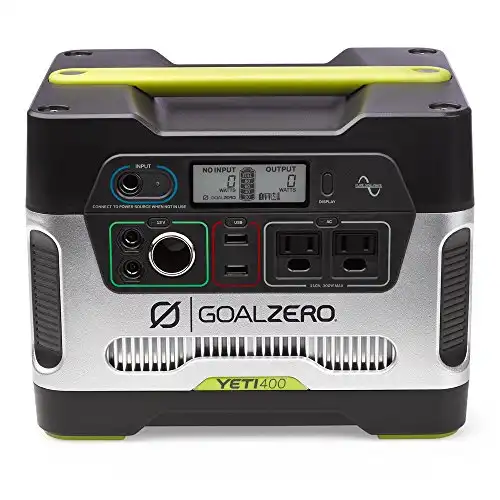 However, I wouldn't recommend the Yeti as a backup power solution in an emergency. If you're looking for something with more oomph, there are better products out there that offer much more power.
Before you make any decisions, here are a few things to consider before buying (or denying) a solar generator.
Editors Note: The Yeti 400 is fantastic for portable power on the go, but if you are looking for a generator with the capacity to power multiple appliances during a home power outage, then you might want to check out our review of the Generark HomePower One.
Battery Type
Batteries can vary in price, this is often due to weight and power capacity. Generally, the lighter the battery, the more expensive it is.
The power station products use a lithium battery, which is light can have a higher capacity. These tend to be more pricey.
Older batteries, like a lead-acid battery, are much heavier – often double the weight of a lithium battery! This is one downfall of the Yeti. You might save a few hundred dollars, but it will be a lot heavier and less portable than other power stations.
Power Requirements
Before buying any power generator, you need to consider how much power you'll need. If you're looking for something to charge your phone and other small devices overnight, there's no reason to get a huge 2500W power station.
However, if you need a backup generator to power your home fridge-freezer and other large appliances going, you'll need something substantial.
Think realistically about all the devices that you'll use and estimate how many times they'll need charging or for how long. This should help you come up with an estimate of how much power you really need.
You might also want to think about eco-friendliness. If you're looking for a portable power station that can be charged with solar panels, then you'll need to make sure you find a compatible solar panel for your power station.
Waterproofing
If solar panels are a must for your powered generator, make sure to check whether they're waterproof or not!
Most Goal Zero solar panels are waterproof. However, power stations themselves are often not waterproof. Again, this is something you should check before opting for the Zero Yeti 400 portable power station.
Performance
Battery Capacity
The Yeti 400 lead-acid battery has a 6-month shelf life and provides about 500 life cycles before the battery will be reduced to 80% capacity.
As mentioned before, the Yeti is excellent for charging everyday devices and small appliances. In my experience, it provides enough power to keep your camera, smartphone, tablet, and even a mini-fridge fully charged for a 2 or 3-day camping trip.
What Can the Yeti 400 Power?
The Yeti 400 is a great charging station for small devices that you use every day. Small appliances such as a mini-fridge will also run off the Yeti 400, although they drain the battery rather quickly.
You could use the Yeti as a backup power generator but keep in mind that it would only be suitable for small devices and appliances.
In my experience, the Goal Zero Yeti 400 works best for charging my phone a couple of times and powering my camping lights.
Here is what Goal Zero Yeti 400 can charge:
35+ charges for a smartphone
10+ charges for a tablet or iPad
50+ charges for a DSLR camera battery
6+hours for a mini-fridge
How To Charge the Yeti 400
A Goal Zero Yeti 400 can be charged in three ways.
AC outlet (e.g. average home power outlet)
Solar Panel (using a compatible solar panel kit)
12V DC car charger (a cigarette lighter port)
Charging the Yeti to reach full charge will take a varying amount of time depending on which charging method you choose.
Charging times are outlined roughly below:
AC outlet = 7 hours
Solar panel kit = 9 hours with direct sunlight
12V car charger + 14+ hours
Portability
Although advertised as a portable power generator, the Yeti's whopping 29lbs weight means it isn't the lightest of modern power stations. There is a useful fold-away carry handle that helps with the portability but once you've put this generator down, you'll want to leave it there.
For comparison, the lithium battery model of the Yeti 400 ways nearly half of the lead-acid battery version. If you're happy to leave it in your tent on a camping trip, then it's a good budget option. But if you need to pull it out quickly in an emergency, I wouldn't recommend it.
Ease of Use
The Yeti comes with an LCD screen display with a battery indicator. However, most solar generators have these nowadays and, in my experience, are far more accurate.
While a useful indication to have, the Yeti's screen only shows you the amount of battery left in increments of 20. For example, it'll display the battery as 0-20%, 40-60% etc.
Limited Accessories
The Yeti boasts a variety of ports for charging your electronic devices but to start with you'll only get the power generator and AC adaptor. All other accessories are sold separately.
While some people won't need all those extra ports, it would be a huge plus if there were a few extras thrown in. Other brands often include car charger cables and other leads with their products.
Design
Eco-Friendly
An obvious design benefit of the Goal Zero solar power generator is that it can be eco-friendly. Nowadays, finding an eco-conscious brand is at the forefront of purchases, and with a relatively quick charge from a solar panel kit, it's a great option for those looking for a greener power source.
Virtually Silent
If you're out camping in the tranquil surroundings of nature, the last thing you want is a noisy generator whirring away. The Goal Zero Yeti 400, however, doesn't make any noise at all.
This is perfect if you're sleeping with your devices charging nearby and it limits any disturbance to the natural environment.
Can Withstand High Heat
Most casual campers will prefer camping in spring and summer when the weather is a little kinder and the temperatures are warmer. This is no problem for the Zero Yeti 400 Solar, which can operate in temperatures of around 32-104°F.
Yeti 400 Alternatives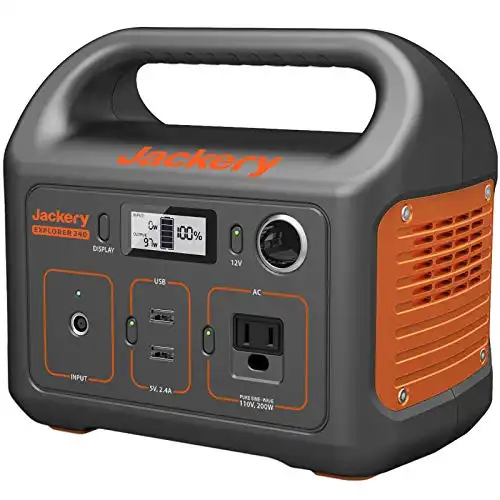 Coming in at just over 6lbs, the Jackery Portable charging station uses a light 240 watt-hour lithium battery pack, unlike the Yeti. But there are many similarities such as the use of solar charging, perfect for powering portable devices and camping lights.
Multifunctional outputs
Easy to carry handle
Easily rechargeable
Lightweight lithium-ion battery
Includes 1x AC adapter, 1x car charger cable,
2-year customer service included
This is a great alternative for someone looking for a lighter, more portable generator. Plus, you'll get many more extras included.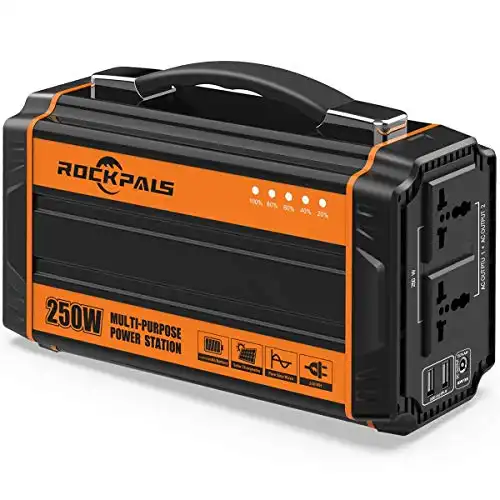 The Rockpals is even lighter than the Jackary model, weighing a tiny 5.5lbs – just a fraction of the Yeti! Again, making it a better option for campers and home users looking for something more portable. It would be perfect for an RV or emergencies.
Like the Goal Zero's charging methods, the Rockpals offers the same three options. Again, it can charge smartphones, tablets, laptops, mini-fridge, and other small appliances.
Easily rechargeable
Lightweight lithium-ion battery
Pure sine wave converter
Includes 2m AC adapter, 1m car charge cable, and DC to cigarette socket adaptor.
Additional Reading: The Best Solar Generators of 2023
Final Thoughts
If you're looking for an affordable and quiet power source for your short camping trips, there's no denying that the Goal Zero Yeti 400 generator does the job.
Offering portable solar power, durability, and reasonable charge time, it's a reliable option. However, if you're looking for something sleeker, lighter, and more useful in an emergency or on a longer trip, there are several other options on the market that would suit your needs better.
So, does the Yeti 400 solar generator review sound like the right product for you? Click the link below to order on Amazon.