My picks for the best solar dock lights are based on the research I did when I moved into a new home last summer that has a dock on pond.
Before making a purchase, I compared over 10 different brands and then selected 4 of them for more rigorous research and testing.
These are my results.
Note: Although I did my original research in 2021, these picks have been updated recently.
Best Solar Dock Lights Reviews
Note: We may receive a commission when you purchase items using links found on our website. We proudly recommend products that are backed by research, use, and testing.
Best Overall: Siedlinlar Solar LED Lights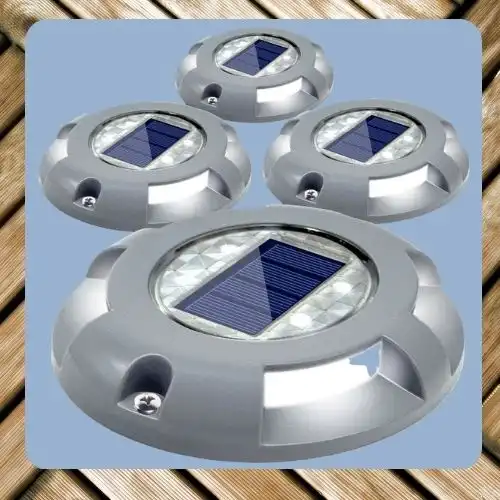 My pick for the best overall solar dock light is from Siedinlar, for plenty of reasons. They're versatile, durable, and waterproof, and they are the ones I choose to install on my own dock.
For lights to be used on docks, you need them to withstand the elements, and that's what Siedinlar's excel at. Not only are they IP68 waterproof, but they're also pressure-proof. They can hold up to 20 tons. A car, or even a truck, can pass on them, and they'll take it like a champ!
Needless to say, their exceptional waterproof rating makes them the perfect candidate for docks and areas prone to extreme weather conditions in general.
These lights have one of the finest designs on the market. The frame is aluminum and features solar panels alongside an LED. They're wireless; you don't have to worry about installing or maintaining them.
Just make sure they get 6 to 8 hours of direct sunlight during the day so that they light for 12 to 15 hours at night.
Siedinlar's package comes with 4 lights alongside their screws and plastic stoples. You can mount them easily on your dock, stairs, or driveway. I have 8 lights
Above all, Siedinlar's lights come at a pretty attractive price compared to their quality. They're practically a bargain!
Runner Up: JACKYLED 8-Pack Solar Dock Lights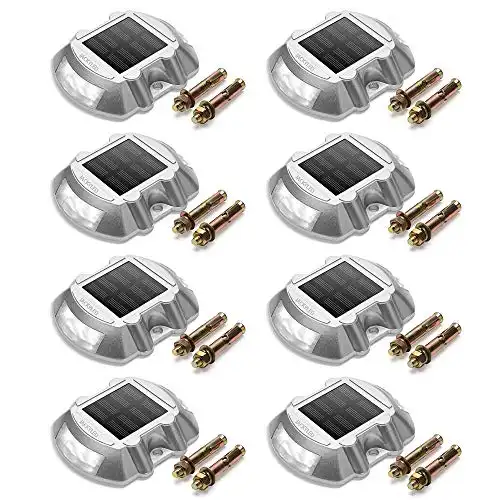 JACKYLED 8-Pack Solar Dock Lights
● Turns on and off automatically at dusk and dawn
● Two-year return policy
● Super bright white light of 50 lumens
● Works well for areas with unpredictable weather conditions
● Unmatched water resistance
Buy Now
Next up are Jackyled's dock lights. The reason why I chose them as a runner up is their unparalleled ability to store solar energy in large amounts all day long, powering the LEDs for up to 72 hours!
The casing is made of premium-quality polycarbonate to withstand tough conditions and heavy weights. It has six LEDs, resulting in a bright light that covers more than 850 yards.
Similar to Siedinlar, these dock lights are waterproof with a respectable IP68 rating, and they withstand pressure. Get a truck of 20 tons to walk over Jackyled lights, and they won't complain!
One of the merits of Jackled's lights is their tightly-sealed battery compartments. They help protect them from rusting and enhance their waterproofness, making them one of the good submersible dock lights on the market.
The only downside to these lights is that their tightly sealed batteries aren't replaceable. They have a lifetime of 3 to 5 years. After that, you need to replace them altogether.
Budget Pick: Home Zone Security Solar Deck Lights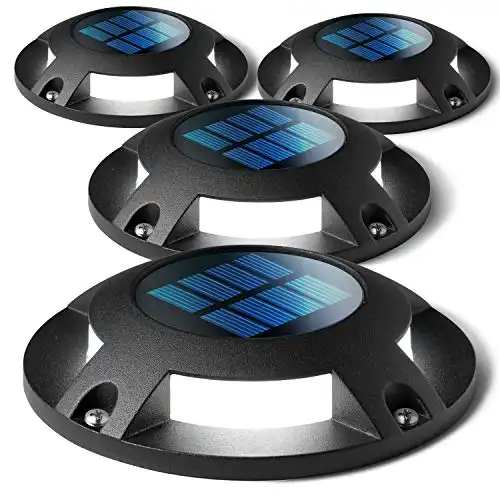 Home Zone Security provides a set of reliable motion-censored and solar-powered lighting solutions for modern houses at affordable prices. They do this primarily for safety while keeping good looks in mind. Their solar deck lights are no exception.
The lights feature an aluminum build with a plastic casing that's not as sturdy as the other two options we reviewed, but they'll get the job done. Nonetheless, they're waterproof with an IP67 rating that also means they're dustproof.
They do work automatically via their dusk-to-dawn sensor, storing energy during the day and illuminating your dock at night.
Alongside their attractive price tag, the best feature of Home Zone Security lights is how easy they are to mount. No wiring required.
You just press the powering button and install them with the screws they come with. No muss, no fuss.
Suggested Reading: Best Solar Powered Security Flood Lights
These lights operate on four LEDs that illuminate quite well, and they're powered via a single AAA 600 mAh rechargeable battery.
All in all, these are highly functional solar dock lights that you can use anywhere other than a driveway.
Premium Pick: Volisun Driveway Dock Lights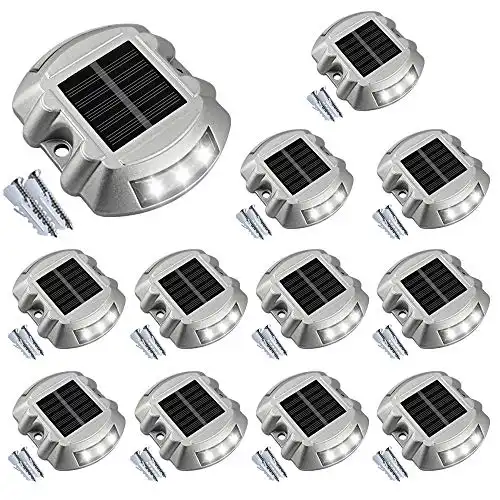 I'll be wrapping up our shortlist with these quality solar dock lights from Volisun. These are solid lights that are built to last. You can tell that from their extra weight that you'll feel when you unwrap them.
Volisun possesses one of the shortest charging times in this category, where it needs only six to eight hours of direct sun exposure for a full recharge. This isn't even the best part. These lights can last up to five days on a full recharge. Unbelievable!
When it comes to technical specs, Volisun's solar dock lights are made of an aluminum casing and a monocrystalline silicon solar panel. They operate on a 600 mAh battery and have an IP67 rating, which is pretty good.
The material is also pressure-resistant. It withstands a weight of about 20 tons, so it's pretty safe to use in driveways.
The lights of Volisun do a fantastic job of lighting long distances, thanks to their sidelights, where each unit includes six LEDs that produce bright light.
Why You Should Trust My Reviews
I've been testing and reviewing solar lights and products for this blog since 2021. I have conducted countless hands-on experiments and learned everything I could about both solar lights and the benefits of going solar.
Whenever possible I buy products and test them myself. When I can't, I reach out to get the feedback from others who have first hand experience.
For the research of my solar lights I am drawing from my own use, plus have spoken to my neighbors with docks who use different lights.
How I Chose The Best Solar Dock Lights
With dozens of options on the market, choosing the best solar dock lights becomes hard, and with subtle differences between these products, things become even harder!
When I was conducting my research I compared the following main factors:
Waterproofness
Durability
Security
Cost
Battery
Brightness
Waterproofness
As you've seen, the options I included above are waterproof.
Since they're used outdoors and mostly near water surfaces, dock lights have to be waterproof. If you're getting them for a dock, it's a must. If they're for your driveway or staircase, we can negotiate.
As a standard, products get an IP rating for waterproofness. IP stands for Ingress Protection, which is the product's ability to stop things from getting inside; things like dust, small particles, and the like.
You Might Also Like: Best Solar Lights For Pools
The two numbers that follow indicate the dust resistance and waterproofness, respectively. The maximum of the first is six, and the second is eight. In conclusion, the best you can get is IP68.
Durability
As outdoor specimens, dock lights must have the ability to tolerate rough conditions. These include tough weather, people, or animals walking on them, and vehicles abusing them.
Clearly, vehicle abuse is your toughest challenge. Hence, you need the sturdiest build if you're going to install your lights on a driveway. We're talking high-quality aluminum here. No plastic allowed!
Check out the weight capacity of the dock lights. This might be listed as their 'pressure resistance' sometimes. The best on the market is that of Siedinlar's as it withstands a weight capacity of 20 tons.
Security
One of the main purposes of installing solar dock lights is security. Well, that's the case for most people, at least.
For that reason, you should look for lights with 360-degree lighting angles to cover wider areas. Besides, it'd be a clever idea to place them in good proximity from each other so as to cover the whole dock. This means that lights with longer coverage ranges are favorable.
Some solar dock lights have additional security features like motion sensors, for example. Having these is definitely a pro.
Cost
Quality comes at a price, and solar dock lights are no different.
Price variations aren't steep among dock lights. Yet, you have to think about the price per unit and the number of units you need to light your whole dock; this is the determinant factor here.
If you're going for a big number of LEDs, you can mix and match. Build an outer outline with high-quality, high-priced lights, and compliment them with a bunch of average ones. This might be cost-efficient.
Battery
Battery choice is of the essence when deciding which dock lights to buy. The perfect battery is one with a massive storage capacity, that charges fast, and has a long illumination time. Between these factors, you'll need to make some trade-offs.
I'd say that you can choose between a short charging time and a big storage capacity because they substitute for each other. If the battery has a limited capacity but charges fastly, there's no problem.
The opposite works as well. If the LEDs take a while to charge, but they can stay up for 72 hours on a full charge, then they're worth it.
The conditions of the place you'll be installing your lights in and its weather are vital here. Think about how much sun exposure you get. Is it enough to charge your solar lights?
Brightness
Lumens indicate the brightness level of your dock lights. The higher the lumen rating, the brighter the light.
The choice here is according to preference. Yet, we advise you to go for higher lumens if you're installing the lights for security purposes. The average is 30 to 50 lumens.
You have more freedom with lumens choice if you need these lights for decorative purposes. You might as well get some of the colored ones to give an ambiance to the place.
Solar Dock Light FAQ
What color should solar dock lights be?
For the lights that illuminate the dock itself, I recommend white lights. They will provide the most light coverage on the dock for safety purposes. However, you may want to consider green lights for any that are facing down towards the water, because they will help to attract fish.
How long so solar dock lights last?
Most solar dock lights will last anywhere from 3-5 years before any bulbs or parts need replacing. But, one of the benefits of solar lights is that they are known to last an extremely long time, so don't be shocked if you get 7 or more years of usage out of your lights.
Why Get Solar Dock Lights
Are solar dock lights worth all this hassle to purchase and install? I say yes.
Here's why:
Solar dock lights are wireless and require no power outlets.
They're cost-efficient in the long run.
They work well for both security and decorative purposes.
They're super easy to install.
No electricity bills.
You can affix them on a post.
Most of them feature automatic operation. You don't have to bother turning them on/off.
They're self-reliant. Zero maintenance is required.
They last for years.
Wrapping Up
I hope I've helped shed some light on the best solar dock lights here. Yes, pun intended!
I find all the options we listed above convenient and they stand head and shoulders above their counterparts. Choosing the best solar shed lights boils down to your personal needs and the purpose you need them for.
If I have to clear a round winner, it has to be Siedinlar Solar Powered Dock Lights. They're the full package; highly functional, durable, versatile, and water-resistant. All at a reasonable price. Such a bargain!